Solid Waste Management Planning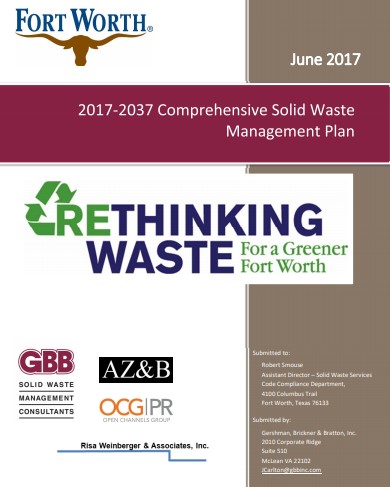 Solid waste management is undergoing structural changes, regionally and nationwide, which impact local solid waste management issues and programs. Yet, all local solid waste decision-making takes place, ultimately, in a unique sociopolitical climate. To ensure the greatest likelihood of new program success, it is crucial to determine the needs and concerns of the many stakeholders involved. With their budgets strained and program costs rising, some communities are looking to the private sector to help them manage and operate part of their system. Others are also examining their full costs and charges and implementing rate reform whereby those who generate the most waste pay the most cost – and those who are able to reduce their generation rate are rewarded with lower costs.
GBB prepares innovative, strategic solid waste management plans that address specific client objectives. Such projects often include the review, evaluation and in-depth analysis of waste management system components – to include waste characterization, collection, transport, storage, processing, and disposal. All of these areas are researched thoroughly, and key stakeholders involved, so that GBB can help communities implement successful integrated management approaches that are compatible with, and linked to, other environmental initiatives.
---
Selected Project Descriptions:
Comprehensive Solid Waste Management Planning
Receivership of the Guam Solid Waste Management Division
United States District Court of Guam
Long Term Strategic Planning / Master Planning for Circular Economy Sustainable Business Park
Kent County, Michigan
Integrated Solid Waste Management Plan
Maui County, Hawaii
Development of Long-Term Integrated Waste Management Plan
Lee County, Florida
Comprehensive Solid Waste Management Plan Development
City of Fort Worth, Texas
Solid Waste Collection Franchise Evaluation and Community Information Assistance
City of Plano, Texas
Solid Waste Management Plan Update
Wasatch Integrated Waste Management District, Utah
---
Related GBB Presentations:
Solid Waste Management Now and What It Can Be in the Future…
Harvey Gershman, GBB Founder Owner Associate
Ohio By‐Product Synergy Network – December 2020
State of the Industry: What's Ahead for Solid Waste Management?
Harvey Gershman, GBB President
Municipal Waste Management Association Fall Summit – October 2015
Does Your Solid Waste Management Plan Need a Makeover?
Lori Scozzafava, GBB Vice President – Operations Officer
Curbside Recycling Expo – September 2015
Overview of Project – Receivership for the Government of Guam Solid Waste Management Division 
Bob Brickner, GBB Executive Vice President
US Virgin Islands – Citizens Advisory Committee – September 2012
County of Maui Hawaii Integrated Solid Waste Management Plan 
Bob Brickner, GBB Executive Vice President
US Virgin Islands – Citizens Advisory Committee – September 2012
Metro Nashville: Total Solid Waste Management Planning & Implementation
Harvey Gershman, GBB President, and David Manning, former Metro Nashville Director of Finance
WASTECON – August 2011
County of Maui Integrated Solid Waste Management Plan
Harvey Gershman, GBB President
WASTECON – September 2009
---
Related GBB Articles:
5 Ingredients for Your Community's Zero-Waste Future
Jennifer Porter, GBB Senior Vice President
Waste Today – January 2023
Solid Waste in the Age of Resilience
Jennifer Porter, GBB Vice President
Waste Today – May/June 2020
From 0 to 180: Transforming Guam's Solid Waste Management System from the Ground Up
Chris Lund, P.E., GBB Senior Vice President
Waste Advantage Magazine – June 2015