Sustainability and the Circular Economy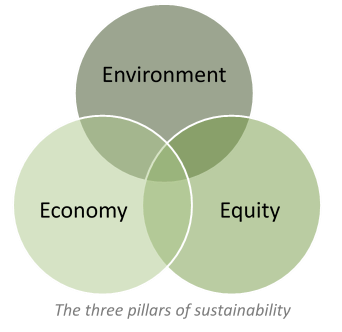 In a sustainable system, humans live in harmony with their environment, both meeting present societal, economic, and environmental needs while also preserving the ability of future generations to equitably meet those same needs. Waste is a key factor to consider in a sustainable system: we must responsibly manage—and minimize—the waste we produce in order to recover all possible materials for use as resources within economic production; minimize waste discharges into the environment; and ensure the social equitability of the positive and negative impacts of waste.
---
Selected Project Descriptions:
Development of Sustainable Business Park
Kent County, Michigan
The County has set a bold goal to divert 90% of County-generated trash that goes to landfills by 2030. Building a Sustainable Business Park is an essential part of reaching that goal, helping to significantly reduce trash buried in landfills and attract investment and jobs from companies that can convert waste into usable products. GBB is a proud Planning Partner of this project!
Development of Prince William County Eco-Park 
Prince William County, Virginia
The County is transforming, with GBB's assistance, its award-winning landfill into a community resource by producing energy, recovering valuable materials and providing unique opportunities for education.
---
Related GBB Articles:
Reshaping the U.S. Solid Waste Paradigm in the Era of Infrastructure Legislation
Paige Davis, GBB Consultant II
Waste Today – April 2022
Our Industry's True Impact on Climate Change
Corinne Rico, GBB Project Manager
Waste Today – September 2020
Think Twice Before Hitting the Checkout Aisle This Holiday Season
Corinne Rico, GBB Project Manager
Waste Today – December 2019
Circular Solutions to a Growing Recyclables Market Problem
Jennifer Porter, GBB Senior Project Manager
Waste Today – April 2018
---
Related GBB Presentations:
Case Study: Kent County's Sustainable Business Park
Jennifer Porter, GBB Vice President and Sustainability Officer / Eugenia Manwelyan, GBB Project Manager / Wyatt Williams, GBB Consultant I
International Society for Industrial Ecology Webinar – March 2023
Increasing Authentic Public Participation in New York State Solid Waste Management Planning: Industry Best Practices & Kent County, MI Sustainable Business Park Development Case Study
Jennifer Porter, GBB Vice President, and Theresa Evans, GBB Senior Consultant
New York Federation of Solid Waste & Recycling Conference – May 2022
Advancing the Circular Economy in Western Michigan – The Kent County Sustainable Business Park Story
Steve Simmons, GBB President
WasteExpo – May 2022
Waste Not ‐ The Circular Economy: Reuse, Recycle, Reduce and Recover
Jennifer Porter, GBB Vice President / Theresa Evans, GBB Senior Consultant
New York State Association of Conservation Commissions Conference on the Environment – October 2021
Confused About How to Deliver Your Sustainability Targets? We Can Help!
Jennifer Porter, GBB Vice President
GreenCircle Certified Webinar – July 2021
10-minute presentation:
Opportunities for Florida: Zero Waste to Landfill and Creating a Circular Economy
Steve Simmons, GBB President
SWANA Florida / Recycle Florida Today Joint Summit – January 2020
Our Circular Economy: Transforming Ideas into Action 
Corinne Rico, GBB Project Manager
WASTECON – October 2019
Imagine This! (Circular Economy and Sustainable Solutions in Solid Waste)
Jennifer Porter, GBB Vice President
Municipal Waste Management Association Fall Summit – October 2019
The Circular Economy: How Local Governments Can Close the Resource Loop
Corinne Rico, GBB Project Manager
Illinois Counties Solid Waste Management Association Conference – November 2018