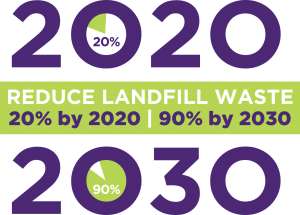 As part of its long-term vision to implement Sustainable Materials Management (SMM) strategies, Kent County, Michigan, has set a bold goal to divert 90% of County-generated trash that goes to landfills by 2030. Building a sustainable business park is an essential part of reaching that goal, helping to significantly reduce trash buried in landfills and attract investment and jobs from companies that can convert waste into usable products. The County selected the GBB-led team to develop the Master Plan for the 250 acres of property to convert waste materials into marketable products. Joining GBB for this key assignment as planning partners are Fishbeck, Thompson, Carr & Huber, Inc., a local Grand Rapids-based Engineering, Environmental Sciences, Architecture, and Construction Management firm; Byrum & Fisk Advocacy Communications, a local stakeholders engagement communications firm; and PFM, the nation's largest independent financial advisor to public entities.
It is envisioned that this property will house facilities to recover discarded materials, to reuse and recycle the recovered material, and to convert non-recyclable material into intermediate products or to recover the energy value of those discards.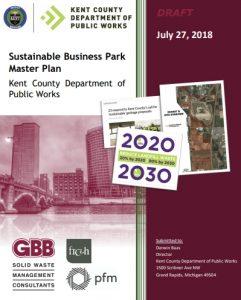 On August 2, 2018, GBB delivered a Draft Master Plan to the County that addresses the design and construction of the public infrastructure; funding sources; and how the services provided by the sustainable business park tenants might interact with Kent County's existing waste management infrastructure. It was formally approved on October 4, 2018 by the Kent County Board of Public Works.
The team evaluated proposed technologies from 23 responses received following a Request for Information (RFI) process to identify technology/equipment suppliers, project developers, technology developers, and end-market users interested in advancing the county's vision of a Circular Economy.
Responses to an Innovative Waste Conversion RFP were then received in September 2020, and the GBB team assisted the review committee through an evaluation process. Leading up to this point, the GBB Project Team had conducted stakeholders' meetings and performed waste stream and market analyses.
In September 2021, the Sustainable Business Park Review Team, with GBB's assistance, recommended Continuus Materials & Anergia (CM+A), which proposed an organic waste conversion to energy, water, and fertilizer component, to the Board of Public Works for consideration for anchor tenant at the Sustainable Business Park.
In March 2022, a Project Development Agreement was formally signed to define the respective roles and responsibilities under which the Kent County Department of Public Works and CM+A would jointly continue to develop, design, permit, equip and maintain the proposed facility and related infrastructure, including schedule, development of the site plan, project capital costs and financing, and other provisions.
"I'm pleased to report that the Kent County Board of Public Works has approved the advancement of the Sustainable Business Park Master Plan that GBB developed. This is a pivotal moment for organizations, like Kent County Department of Public Works, who operate integrated solid waste management systems as we all begin to consider how to shift our dependence away from landfilling and towards sustainable materials management strategies.

GBB's comprehensive approach to the development of this Master Plan will allow us to move seamlessly into the implementation phase. Your agency's collective industry experience and willingness to bring local engineering consultants alongside the process has proven to be invaluable as we explore the variety of technologies in use across the world to help us reach our goals of reducing waste going to landfill by 90% by 2030.

Please extend my appreciation to all the GBB staff who helped us get to this point in our path. Your expertise and excitement for this project was critical in our success thus far."

— Darwin J. Baas
Department of Public Works Director
Kent County, Michigan
Visit Kent County's Reimagine Trash website to learn more about the ambitious project!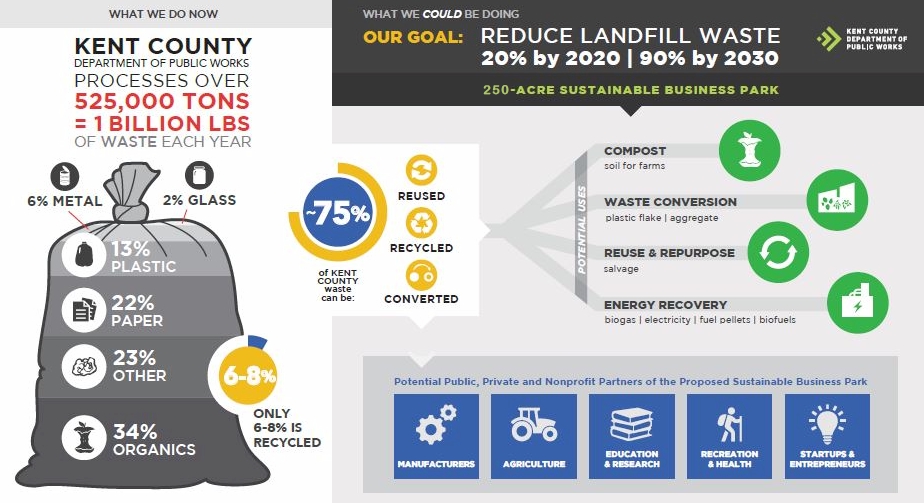 Below are regularly updated links to the latest news and information about the Sustainable Business Park:
"In 2016, we set a roadmap to achieve 20% reduction in landfilled waste by 2020, and 90% by 2030, to bring Kent County closer to a circular economy system. A key component of that strategy is the successful establishment of the Resource Park.
The GBB Project Team has proven that it's up to the challenge with the combination of a clear understanding of our vision, a sensible project approach, past success stories, strength of the project team, and recent projects performed for the County."
Dar Baas
Director Kent County, Department of Public Works
"As evidenced by China's recent waste import ban, America's recycling future is highly dependent upon the development of domestic outlets for its recovered materials.
Resource Parks, such as the one envisioned for Kent County, can play a vital role in the development of that domestic capacity while providing green collar jobs for local communities."
Steve Simmons
GBB President