Quality • Value • Ethics • Results
For over 40 years, GBB has helped clients solve complex solid waste management issues by providing innovative, responsible, sustainable and economical strategies and solutions for the benefit of communities and the environment!
In the news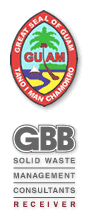 In a 2008 Court Order, GBB was appointed as Receiver with full responsibility for bringing the Guam Solid Waste Management Division into compliance with the 2004 Consent Decree for violation of the Clean Water Act. In 2019, after GBB built a modern solid waste system for the island, the Court partially ended the Receivership. Click here for information about the Receivership.
READ MORE »
Services
Newsletter and Recent GBB Articles
SWANA's Lawrence Lecturer Award
The Solid Waste Association of North America awarded Harvey Gershman, GBB Founder Owner Associate and Co-Founder, the prestigious 2019 Lawrence Lecture Award at WASTECON.
See his insightful and inspiring keynote presentation in this 42-minute video: