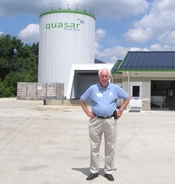 On July 15, 2014, GBB Executive Vice President and Co-Founder Bob Brickner attended the grand opening of quasar energy group's new high-solids anaerobic digestion project in the City of Wooster, OH, approximately 50 miles southwest of Cleveland. Along with 200 other attendees, Bob participated in the daylong event that included the official ceremonies; lunch; guest speakers from quasar, the City, Ohio House of Representatives, Ohio Senate, U.S. Department of Agriculture, and the Northeast Section of the Ohio Water Environment Association; and a technical tour of the plant.
The new facility, funded in part by the USDA Rural Energy for America Program and the Ohio Development Services Agency, is located on the grounds of the City of Wooster Water Pollution Control Plant. The retrofit transformation of the plant, with the newly installed Nutrient Resource Recovery System, helped turn the traditional 50+ year old wastewater treatment plant into a water resource recovery facility, recycling energy and nutrients from the waste stream while reducing operating costs and expanding capacity.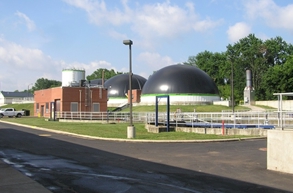 The 1.8 million gallon tank, with an annual input capacity of 100,000 wet tons of organic biomass and wastewater treatment plant biosolids, can generate 810 kW of electricity. Under a long-term contract with the City, quasar privately funded the project will operate and monitor the three anaerobic digesters that will be able to manage five times the throughput of the original system while meeting EPA regulations. The retrofit has allowed the City of Wooster to provide 100 percent of the electricity to run the entire WWTP/digester facility as well as provide waste management solutions to businesses interested in relocating to the area, according to City staff.
Bob noted that this is the third alternative technology facility grand opening that he has attended in the space of just a couple of months, after Infinitus in Montgomery Alabama and Enerkem in Alberta, Canada earlier this year. "This is a testament to the evolution going on in the industry, and the ability of technologies to successfully move from concept and demonstration to reality," he said.
Related Stories: