Eugenia Manwelyan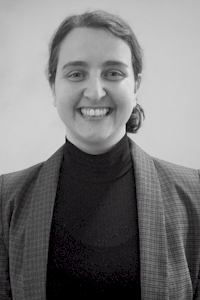 Project Manager
Education:
MS, Urban Planning, Graduate School of Architecture, Planning & Preservation, Columbia University, New York, NY
BA, International Development, McGill University, Montreal, Canada  
Areas of Expertise:
Sustainability; resilience planning; environmental planning; training / education; community / stakeholders engagement; project management; feasibility studies; research and analysis; strategic partnerships; and, mapping and geocoding (ArcGIS).
"The multidisciplinary elements of the materials management industry inspire me with the possibility to create far-reaching change toward more sustainable, resilient, and socially just communities."
Ms. Manwelyan is a well-versed planning practitioner with more than 15 years of experience in sustainability, resilience, and environmental justice. She has worked on projects ranging from food waste recovery and landfill diversion to circularity and industrial symbiosis.
Her experience includes working in both rural and urban communities as a county government senior planner, consultant, non-profit executive director, and entrepreneur. With a strong training and education background, she established food systems curricula as a Visiting Professor at the Columbia University Graduate School of Architecture, Planning and Preservation; she founded Eco Practicum, an environmental leadership training program with 500 alumni; and has helped jurisdictions and organizations to imagine, implement, and operationalize principles of fairness, equity, and circularity.
Publications & Speeches
"From Landfills to Clean Energy: How the Inflation Reduction Act Empowers Food Waste Diversion Projects," published in Waste Today (September 2023)
"Ending Food Waste to Landfill with the Inflation Reduction Act," presented at the Federation of New York Solid Waste Conference (May 2023)
"Ending Food Waste to Landfill with the Inflation Reduction Act," presented at WasteExpo (May 2023)
"Case Study: Kent County's Sustainable Business Park," presented at the International Society for Industrial Ecology Webinar (March 2023)
"ESG Guidance: We Won't Achieve What We Don't Measure," published in Waste Today (January 2023)
"Nothing for Us Without Us: Furthering Equity and Justice in the Solid Waste Sector," published in Waste Today (March 2021)