Integrated Solid Waste Management Plan (Maui County, Hawaii)
GBB was the lead on the project team that was hired to develop the Integrated Solid Waste Management Plan (ISWMP) for Maui County that is required by the State of Hawaii. The ISWMP considered the following solid waste management practices and processing methods in their order of priority:
Source reduction;
Recycling and bioconversion, including composting; and
Landfilling and incineration.
GBB evaluated solid waste and recycling collection, as well.
By 2000, the State had hoped to be at 50 percent diversion but, instead, had a recycling ethic that had not yet rooted into the community; user fees (e.g., pay-as-you-throw) were rare; and the inherent costs of operating a recycling business on an island were high. As a consequence, local recycling markets were underdeveloped. These and other issues were taken into account in the development of the ISWMP. The Mayor appointed members to an advisory panel, the Solid Waste Resource Advisory Committee (SWRAC), and the ISWMP was built through that panel.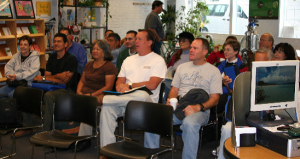 Prior to the first ISWMP draft, GBB led a tour for 17 people from the County on an eight-day tour of West Coast solid waste facilities. The tour group was made up of citizens from the SWRAC, members of Maui County Mayor Charmaine Tavares' administration, and staff members of the Hawaii Department of Environmental Management.
The group landed in Portland, Oregon, and visited the Metro Regional District's facilities. It then went to nearby Marion County to tour Covanta's waste-to-energy facility and the County's ash monofill. The group then flew to San Francisco to visit the City contractor's MRF, transfer station, education room, citizens' drop-off facility, and C&D MRF. The group was fortunate to spend several hours talking with the City's staff and listening to Robert Hailey's zero waste program strategies.
Next, the group went to UC Davis to discuss alternative disposal options and then to nearby Vacaville to see San Francisco's food waste being composted. Finally, the tour ended in Monterey, CA at the Monterey Regional Waste District's facility with its Last Chance Mercantile, C&D MRF, wood grinding operation, HHW facility, and a chance to talk with the managers who operate this public facility in a business style.
One week after the tour, the members of the SWRAC met with an expanded knowledge base from which to build on the solid waste management plan in development for the County of Maui. The major recommendations of the draft Plan included:
Providing single-stream curbside recycling collection and weekly trash collection;
Providing residential curbside collection of white goods, bulky waste and household hazardous waste;
Developing MRFs to process recyclables and C&D waste;
Implementing a landfill gas collection system and generating electricity from it;
Increasing environmental education;
Developing a transfer facility and convenience/recycling center;
Consolidating certain base yards and developing a centrally located solid waste campus;
Initiating C&D waste recycling programs; and
Investigating technologies to convert waste to electricity.A series of public hearings were held before the final Plan was submitted to the Hawaii Department of Health and approved.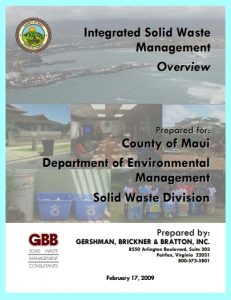 A series of public hearings were held before the final Plan was submitted to the Hawaii Department of Health and approved.
For more details, see the presentation entitled "County of Maui, Hawaii, Integrated Solid Waste Management Plan".