Landfills Contractor Procurement and Business Plan (City of Corpus Christi, Texas)
For the City of Corpus Christi, Texas, GBB was retained to assist in the development of a business plan leading to the procurement of a private contractor to build and operate the City's Cefe Valenzuela Landfill, a greenfield site previously designed and permitted by the City and its local engineering consultant.  The business plan included an extensive waste supply/market assessment; evaluation of transfer station construction and operation; and an economic analysis and financial review of several alternative scenarios involving different operator confirmations, waste intake, and transfer station components.  The business plan also addressed the potential for a private contractor to take over operations of the City's existing J. C. Elliott Landfill and yard waste mulching operation, with options to convert that facility to a construction and demolition waste (C&D) landfill upon start-up of the Cefe Valenzuela Landfill, continue its operation, delay the opening of a new landfill, and develop and operate a transfer station at that location.  Finally, the business plan provided a needs analysis; set forth a program for the management, marketing of services and operation of both facilities; and outlined the suggested procurement steps and schedule.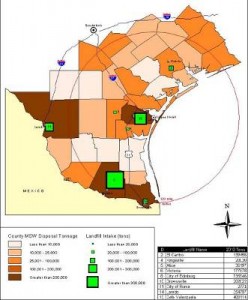 GBB also provided an analysis of options associated with a new fee to be assessed to solid waste generators.  GBB researched programs in other selected communities in Texas and outside Texas, provided comparative analyses of advantages and disadvantages and costs/revenues of different options, and assisted the City in preparing and presenting information for City Council and the public regarding this supplemental source of funding to buttress the City's declining tipping fee revenues at its Elliott Landfill.
In addition, as part of its services for the City of Corpus Christi, GBB assisted in the preparation of specifications and review and analysis of bids for refuse carts to be distributed to residences in the first phase of the City's conversion from manual to automated refuse collection.
The new fees were adopted by City Council and have been successfully implemented.