Recycling and Demolition of the Nashville Thermal Waste-to-Energy Plant (Metro Nashville, Tennessee)
On April 19, 2004, the Nashville Thermal Transfer Corporation formally turned over the 30-year-old Thermal Waste-to-Energy plant property to Anderson Excavating Company of Omaha, Nebraska, for complete demolition. The RFP indicated a Project-goal of 90% reuse/recycling of the Plant.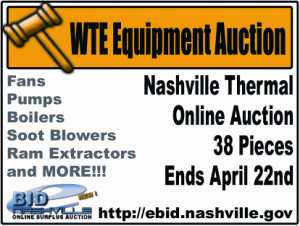 The overall demolition process, from writing of the contractor RFP to contracting, was managed by GBB. One of the unique and original aspects of the "dismantling of Thermal" was an on-line auction process conducted on Thermal's fixed and used mobile equipment and parts. GBB assisted the Metro IT staff publish and complete over 150 auction transactions for the resale and reuse of used equipment. These auction events, completed over a six-month period brought $983,000 to the Metro Nashville government, owner of the Thermal assets, reducing the overall cost to close and demolish Thermal.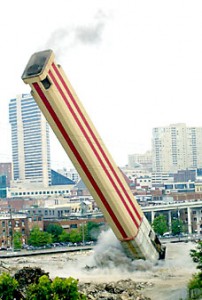 The five-month project included the implosion of the large 200-foot concrete stack. Considering all site-related work, GBB has calculated that 98.5%, by weight, of all the materials within the old waste-to-energy plant were either salvaged for reuse, or processed for recycling including materials such as crushed concrete aggregate, crushed asphalt, metals, railroad ties and used equipment. New Metro public works construction projects were the strategic recipients of many of these recycled materials, saving the Metro costs of buying virgin materials.