Road to Zero Waste – 2023-2045 (Orange County, North Carolina)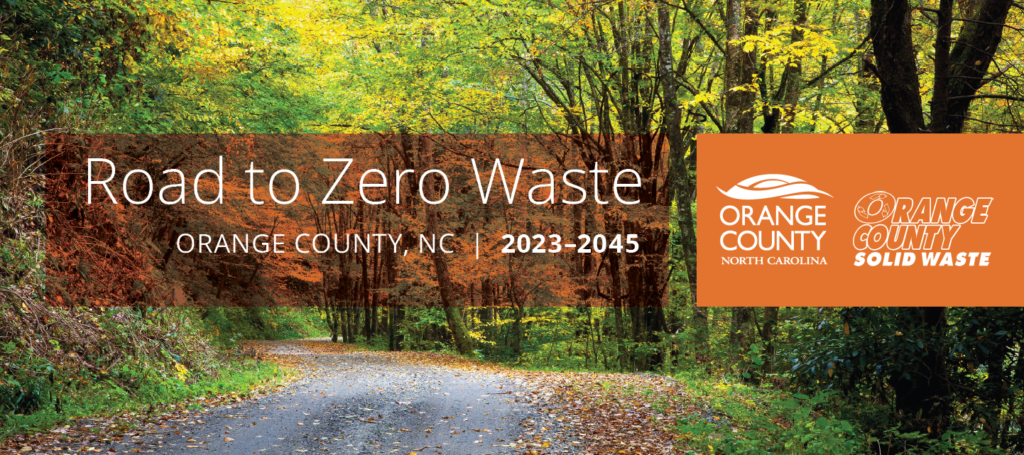 Project Overview
GBB is grateful for the opportunity to collaborate with Orange County, North Carolina, to develop a comprehensive Solid Waste Master Plan "Road to Zero Waste 2023-2045". The plan details a path forward with 5-year benchmarks throughout the two decades ahead, along with strategies for prevention, collection, and processing for both residential and commercial entities. With a population of 150,000 residents, including the Towns of Chapel Hill, Carrboro, and Hillsborough, as well as the University of North Carolina-Chapel Hill and the UNC-Healthcare System, Orange County entrusted us to assess the current efforts and programs and to create a roadmap toward a sustainable, zero-waste future.
The County's Goals
The project, led by Orange County Solid Waste Department and the Solid Waste Advisory Group, set forth eight clear objectives for this project:
Comprehensive Plan
Develop an easily understandable Solid Waste Master Plan with identifiable action items.
Zero Waste Strategy
Create a strategy by 2045 leading to "Zero Waste" as defined by the County.
Integration
Align the efforts of the plan with ongoing climate action plans of the County, municipalities, universities, and healthcare systems.
Sustainable Business Model
Select a sustainable business model considering financial, social, and environmental impacts.
Program Identification
Identify future programs, initiatives, facilities, and infrastructure to achieve the Zero Waste goal.
Public Engagement
Engage the public effectively, including historically marginalized groups, and keep them informed.
Education and Participation
Increase public education and participation in waste reduction and diversion programs.
Regulatory Compliance
Ensure all proposed programs and policies comply with local, state, and federal requirements.
Challenges and Solutions
The project faced challenges such as limited accurate waste data and gaps in commercial solid waste information. However, our team effectively addressed these issues by providing a comprehensive assessment of the current system, collecting, and analyzing data meticulously, and creating a solid baseline of tons of waste for future planning. Specifically, the baseline generated will help to project future waste generation estimates based on population and services, and will aid Orange County's ability to focus on increasing recycling and diversion for strategic long-term considerations.
Our solutions encompassed 17 recommendations, grouped into three practical scenarios, to guide Orange County towards zero waste. These recommendations, which consider varying cost tiers and infrastructure, included raising public awareness, advocating for material bans, introducing County-level recycling requirements, and fostering innovation partnerships.
Community-Centered Approach
Our commitment to racial justice and equity was evident throughout the project. We engaged with the community, ensuring all voices were heard, and designed recommendations with their feedback in mind. This was achieved through developing, administering, and analyzing a public survey in multiple languages. We also arranged outreach efforts to get word out about the survey at in-person public events in the community (farmers markets), as well as online via public meetings.
Building a Sustainable Legacy
Beyond recommendations, our project included practical solutions such as ensuring consistency at waste recycling centers, implementing enforcement measures, and offering diverse cart sizes for residents. We envisioned model programs for waste reduction, recycling, and composting in schools, emphasizing education and engagement.
Creating a Zero Waste Blueprint
Our work with Orange County reinforces our dedication to collaborating with municipalities for sustainability, equity, and community engagement. The "Solid Waste Master Plan: Road to Zero Waste 2023-2045" lays the foundation for a future where waste reduction, recycling, and composting are the norm, considering the financial, social, and environmental well-being of the community.
Results and Next Steps
We presented the "Road to Zero Waste Plan" to Orange County's Solid Waste Advisory Group in September 2023. Discussions are ongoing, and we eagerly await the Plan's approval by the Board of County Commissioners. This marks a significant step towards realizing Orange County's zero waste vision.