Long Term Strategic Planning (Kent County, Michigan)
Operational Efficiency Study and Future Strategic Planning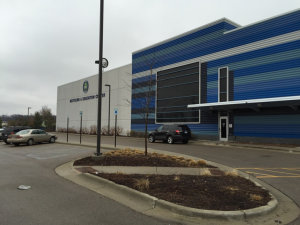 GBB was selected to conduct an efficiency review of the County's organization, operations, landfills and disposal/Waste-to-Energy facilities. The organizational review included the study and evaluation of the County's organizational structure, alignment, functions, as well as training programs that are made available to management and staff.
The reviews of facilities, whether operated by the County or by service providers, provided the County with an understanding of the various functions and roles performed at their assets, its relationship to the overall organization and helped to identify ways to maximize efficiency. The review included the operational functions and work flow processes at the operating landfill; evaluation of operating costs, staffing levels, airspace waste placement and optimal waste placement for preserving available airspace. GBB evaluated the MRF's operational efficiency and analyzed data relating to residues and material recovery. The ability of the MRF to take more materials was evaluated as one of the County's objectives is to increase diversion for recycling. At the WTE Facility, GBB reviewed how the operator performs, and benchmarked performance indicators versus industry practices at other WTE Facilities. GBB also reviewed the service agreement and the facility's operations and performance reports to assure that it is being operated in compliance with the existing agreement and permits. Potential modifications to operations and/or waste flow were recommended to improve the system efficiency and potentially improve the County's revenues and reduce costs.
The financial review looked at both revenue/expense sources and capital improvement programming/plans. Additionally, GBB did a full-cost accounting review of the organization.
Review of Construction Waste and Demolition Debris (C&D) Recycling System
As part of the efficiency study, the GBB Project Team reviewed the C&D generation in the County and made recommendations to increase processing capacity and lower the tonnage of C&D going to landfill.
With little to no processing capacity for C&D mixed materials within the County, there was a prevalence of C&D material observed at the North Kent Transfer Station and concerns over C&D material decomposition at the South Kent Landfill. After discussions with stakeholders, GBB recommended locating a C&D processing system at either the North or South Kent facility locations.
The GBB Project Team then reviewed scale reports to identify potential C&D loads coming into the South Kent Landfill and North Kent Transfer Station to estimate the tons of C&D in the County. A C&D cost estimating model was used to evaluate two possible scenarios for building and operating a C&D processing system at the South Kent Landfill, and potential markets were assessed evaluate potential recovered material revenue.
Finally, the GBB Project Team arranged for a tour of the Fauquier County, VA, Construction & Demolition Recycling Facility by a group of Kent County officials in order to observe operations and equipment and learn from the Fauquier County staff.
Wage Rate Study
The Kent County Integrated Solid Waste Management System is manned by a variety of staff positions throughout the network of facilities and services. GBB conducted a Wage Rate Study for 16 positions in the solid waste department's organization, operations, landfills and disposal/WTE facilities. The Wage Rate Study helped assist the County's Human Resources Department compare the department's wage structure against similar positions in the industry to use the information to hire top-tier candidates and retain quality employees.
GBB surveyed comparable departments of Michigan municipalities and worked with solid waste industry recruiters to assist with data collection both on local and national level.
Zero Waste to Landfill Business Assistance
GBB worked with the County to advance discussions with companies that are interested to contract for disposal or processing, and to ensure that the County's facilities can provide Zero Waste-to-Landfill certification for these customers.
As part of the assignment, GBB collected data on commercial waste generation to quantify commercial and industrial wastes, as well as materials diverted for commercial recycling. GBB also described the waste supply from these customers and evaluated disposal and processing possibilities through the County's existing infrastructure. Additional supply potential was estimated, and strategies for gaining those additional supplies we developed. Ultimately, this information will be used to size and configure a waste-to-energy system (or systems, depending on locations and amounts) change.
Master Plan Development for circular economy Sustainable Business Park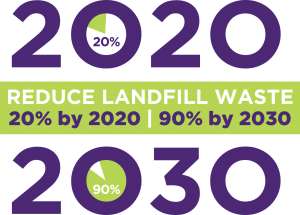 GBB was tasked to develop a Master Plan for 200+ acres of property to convert waste materials into marketable products. As part of its long-term vision to implement Sustainable Materials Management (SMM) strategies, the Department of Public Works is pursuing the development of the Sustainable Business Park as a key component of its SMM system, to house facilities to recover discarded materials, to reuse and recycle the recovered material, and to convert non-recyclable material into intermediate products or to recover the energy value of those discards.
The long-term goal for the Park is to displace landfill use for disposal of waste materials as much as possible by attracting new business ventures that will not only recover waste materials, but also convert them into new, domestically manufactured, products through innovative technologies.
As part of the assignment, the GBB Project Team was tasked with conducting stakeholders' meetings; performing waste stream and market analyses; evaluating technologies; developing a Master Plan for the design and construction of necessary public infrastructure; researching funding sources; and evaluating how the services provided by the Sustainable Business Park tenants might interact with Kent County's existing waste management infrastructure.
See the latest information about this ambitious project.
Kent County has a population of approximately 642,000 and is West Michigan's economic and manufacturing center. The Department of Public Works began providing disposal solutions in the late 1960s and currently provides integrated waste management services to the County and West Michigan with facilities that include the Recycling & Education Center, Waste-to-Energy Facility, North Kent Transfer Station and South Kent Landfill.