Comprehensive Solid Waste Management Plan Development (City of Fort Worth, Texas)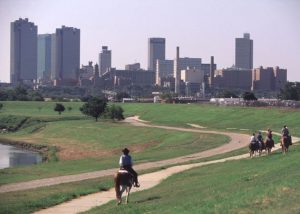 The City of Fort Worth has a tradition of being proactive in waste management, going back almost 50 years, and is dedicated to providing residents with opportunities to divert, recycle, and reuse. The known opportunities for further advancing solid waste practices in the City include:
Identifying opportunities within commercial waste for waste reduction, recycling and beneficial use;
Achieving higher residential recycling rates;
Identifying the needed processing and recovery facilities, such as a new materials recycling facility, to manage the City's resources over the next 20 years; and
Potentially incorporating resource recovery technology for managing non-recycled wastes.

To assist in the development of its 20-year comprehensive solid waste management plan, the City selected GBB to perform the following key tasks:
Data Gathering and Analysis
Identification and Evaluation of Alternatives
Public Outreach
Strategic Planning / Recommendations
Present and Future Funding Strategies Analysis
20-Year Implementation Plan / Capital Improvement Plan
Disaster Debris Management Plan
As part of the process, extensive public outreach efforts were conducted to garner opinions and insight regarding the interest of residents and stakeholders in solid waste and other environmental issues. The final plan was subsequently unanimously approved by City Council. Key initiatives and goals of the Plan include:
Preserving the City's Southeast Landfill through diversion and recycling programs;
Establishing a Material Management Program to assist commercial businesses, industry and institutions with their efforts to increase recycling and decrease waste generation;
Furthering the City's overall efforts toward increasing total diversion and expanding recycling programs;
Improving litter prevention and abatement programs and expanding the use of public containers;
Evaluating and implementing a pilot organics composting program;
Increasing educational programs and outreach efforts; improving and expending residential services;
Evaluating future developmental standards that expand diversion and recycling; and,
Developing new programs with incentives that foster increased diversion or recovery of building construction and demolition materials.