Technical Assistance for Office Recycling and Public Education (U.S. Postal Service Headquarters)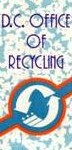 In an effort to comply with mandatory recycling requirements, reduce disposal costs, and enhance public image, GBB planned and implemented a comprehensive recycling program for the U.S. Postal Service Headquarters, a 2,700 employee complex located in Washington, D.C. GBB developed a multi-material office recycling program to recover high-grade office paper, newspaper, aluminum, glass beverage containers, and corrugated cardboard.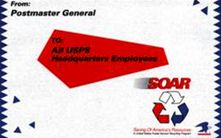 In addition to technical assistance in designing the collection and marketing systems, GBB designed and developed a series of promotional materials, including: logo and theme (GBB worked with ideas suggested by USPS staff for logo and created the SOAR theme, Saving of America's Resources — A United States Postal Service Recycling Program); preliminary flyer announcing the program kick-off; four-color brochure distributed to all employees, providing details on the collection program; business cards for volunteer recycling coordinators; poster for common areas, entranceways, and elevators; signage to place above containers (in keeping with building aesthetics); auto-narrated slide presentation for employee training; tee shirts, hats, and other promotional give-aways; and artwork for silk-screened containers. The educational program won awards from the U.S. EPA and the National Recycling Coalition.