For more information, contact:
Gershman, Brickner & Bratton, Inc.
(703) 573-5800 / www.gbbinc.com
Fairfax, VA (December 14, 2015) – Gershman, Brickner & Bratton, Inc. (GBB) is proud to announce that Stephen Simmons has joined the firm as Vice President. Formerly a GBB Principal Associate in 2012 and 2013, he is a sustainable development business leader with more than 30 years of experience in the energy and environmental services sectors. Having worked with leading international energy operating companies and engineering / consulting firms, he is highly experienced in program and project management, new business development, waste and power marketing, technology evaluation, business financial modeling, profit and loss management, facility design, procurement, and construction.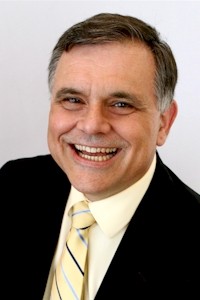 "Stephen has extensive renewable energy experience, having helped communities and companies throughout his career," said GBB President and co-Founder Harvey Gershman. "We're happy to have him on board again, with an expanded role both with client projects and as part of GBB's senior management team."
"My passion is to help develop programs and projects implementing the 3 E's of sustainability: ecology, economy, and equity," said Simmons. "Initiatives must address all three to be successfully designed for the long run. The combination of GBB's extensive resources and my expertise and background will help clients develop such sustainable initiatives."
Mr. Simmons was most recently Fuel Sourcing Manager at Evergreen Community Power, a 25 MW combined heat and power facility fueled with waste-derived biomass. At Plasco Energy Group, which focuses on creating renewable energy from municipal solid waste using a plasma gasification process, he led project development efforts in the United States and Caribbean Basin which included preparing market studies, leading contract negotiations, and managing the regulatory approval process. As Vice President, Business Development, of ADAGE LLC, he was part of a team that developed facilities converting forestry waste into clean renewable energy. He also directed the commercial development, site selection, feedstock supply, and off-take agreements for Losonoco, Inc., a biofuels start up.
As Founding and Managing Member of Mainland Technologies, an energy / environmental consulting firm, he provided business development, project management, and acquisition services for 4 years. Early in his career, he spent over 15 years as Business / Project Manager for American Ref Fuel Company, now Covanta. He was responsible for directing business development efforts, managing waste and energy revenue generation, and implementing public and community affairs programs throughout the mid-Atlantic region. He also led project teams conducting acquisition due diligence, facility design, and construction in the energy from waste industry.
Mr. Simmons has a Bachelor of Science degree in Mechanical Engineering from the University of Missouri – Rolla, and a Professional Certificate, in Energy Policy and Sustainability, from the University of Denver. Based in the Philadelphia, PA, area, he can be reached at ssimmons@gbbinc.com or 610-742-4611.
About GBB
Celebrating its 35th anniversary in 2015, GBB is an award-winning national solid waste management consulting firm that helps public and private entities do better things with waste. GBB specializes in solid waste collection, processing, recycling, resource recovery, and disposal issues and assists in planning, procuring, and implementing sound, cost-effective facilities and services. For more information on the firm and its products and services, visit www.gbbinc.com, www.linkedin.com/company/gershman-brickner-&-bratton-inc-, www.facebook.com/gbbinc, www.twitter.com/gbbinc, or call 703-573-5800.
###