For more information, contact:
Gershman, Brickner & Bratton, Inc.
(703) 573-5800 / www.gbbinc.com
Fairfax, VA (September 26, 2013) – Gershman, Brickner & Bratton, Inc. (GBB) proved last week that its expertise reaches beyond solid waste consulting to include communications and marketing, as it received a Thoth Award, from the Public Relations Society of America – National Capital Chapter (PRSA-NCC) on September 18 during the 45 Annual Thoth Gala in Washington, DC. The Thoth Award is the highest honor in public relations and communications that a company can receive from the PRSA-NCC. GBB won for its latest corporate brochure.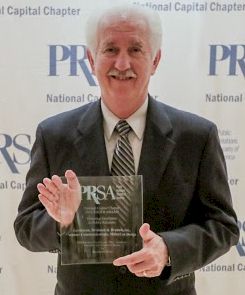 An experienced panel of judges selected GBB's brochure after reviewing numerous entries from public relations, non-profit, and corporate organizations located in the Washington, D.C. area.
GBB's winning brochure (featured below) showcases the firm's expertise in new waste management technologies, and introduces its new team of officers as part of the company's current leadership transition. Developed with assistance from Atwater Communications and MillerCox Design, the new brochure emphasizes the "why" behind individual GBB leaders' involvement in the solid waste industry, instead of just the "what," and it was this distinction, combined with its superior design elements, that set it apart from the competition.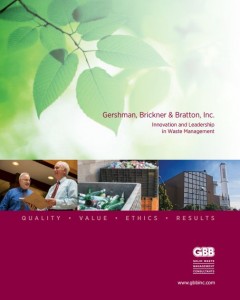 "This piece conveys the passion we all have for the environment and our work in a way we've never done before, and it is an honor to see it recognized by experts in the field," noted Bob Brickner (featured in photo), GBB Executive Vice President and Co-Founder, who accepted the award last Wednesday on behalf of GBB.
About PRSA-NCC
PRSA-NCC is the nation's largest professional public relations association, with more than 1,500 members, in the Washington, D.C., metropolitan region. It provides professional development programs, accreditation instruction, and networking to its members. PRSA-NCC also promotes public relations education through five area Public Relations Society of America student chapters. For more information, visit www.prsa-ncc.org.
About GBB
GBB is a national solid waste management consulting firm founded in 1980 that works on solid waste collection, processing, recycling and disposal issues and assists in planning, procuring, and implementing sound, cost-effective facilities and services at the local, state, and national levels for both the public and private sectors. For more information on the firm and its products and services, visit www.gbbinc.com, www.facebook.com/gbbinc, or call 703-573-5800.