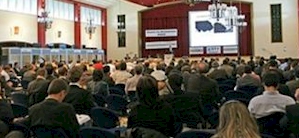 Everyone wants to do better with municipal solid waste, and mechanical biological treatment (MBT) is one avenue. But is it right for every community? The single best place to learn about MBT is where it's being done, by the folks who know the most about it. That happens only once every two years in Germany with renowned MBT expert Dr. Matthias Kuehle-Weidemeier, CEO of the Germany-based waste treatment specialists Wasteconsult International. Your next chance to hear from Dr. Kuehle-Weidemeier is this May in Hanover, Germany.
With participants from about 40 countries attending previous editions, Waste-to-Resources is the world's largest conference on MBT & Material Recovery Facilities (MRF). The combination of conference, commercial exhibition, and site visits will make Waste-to-Resources 2015 again a prime event for operators, authorities, consultants, and technology providers. The conference, which will be held May 5-8, 2015, will cover a wide range of topics, including:
MBT & MRF in different countries
Targets, legal aspects, boundary values
Basics, possibilities, limits, and relevance of MBT & MRF
Competition and material (waste) streams
Functionality, economic efficiency, and lifecycle balance
Experience with new and rebuilt plants
New developments in machine and system engineering
Anaerobic digestion of organic waste fractions
Energy recovery by RDF power plants, gasification, liquidization, and more
Conditioning, use, and sale of MBT & MRF output fractions (e.g. RDF, metals)
Process control and analytics
Emissions and their treatment
Bio/Pyro and Hydro-char (HTC)
Landfilling of MBT-waste
North American Workshop
As part of the conference, GBB will host a special complimentary workshop for colleagues from North America, on May 7, 2015, from 11:00 a.m. to 1:00 p.m. This workshop will be tailored for and limited to attendees from North America, and will be facilitated by John Carlton, P.E., BCEE, Senior Vice President with GBB and Dr. Kuehle-Weidemeier, and supported by Michael Balhar, CEO of ASA GmbH. The workshop will feature a facilitated discussion on the following topics:
The development of modern MBT systems and how they can reduce landfill input and aftercare costs;
Insight into commercial MBT systems in Europe and how these systems could work in North America;
Practical experience and lessons learned from operating MBT systems in Europe; and
Implementing MBT processing as part of a North American integrated solid waste management system.
In addition, there will be reserved time to discuss your specific operating systems or solid waste management strategies and brainstorm together the best way to incorporate MBT into your current or future plans. After attending this workshop, attendees will come away with the latest information on MBT and how it could play a role in helping achieve their solid waste management goals.
As a bonus, in addition to access to the special North American workshop, North American attendees will also receive the proceedings (448 pages) of the previous Waste-to-Resources conference as a bonus.
To view the conference program, register, and reserve your space at this workshop, please visit www.waste-to-resources.eu.
We hope to see you there!