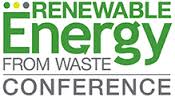 The inaugural Renewable Energy from Waste Conference was held in November 2013 in West Palm Beach. This comprehensive and market-driven conference is dedicated to the production of renewable energy and resources from waste materials. The two-day event had great content in an ideal environment, where over 200 key industry players were able to learn, network, and exchange ideas. The co-organizers – Recycling Today Media Group, Renewable Energy from Waste Magazine, Smithers Apex, and GBB – are already working on the 2014 event taking place November 18-20 in San Jose, and hope to see you there! Read the official announcement and learn more about the event.
In the meantime, download/share with your colleagues the conference opening presentation, "Update on Renewable Energy From Waste Technologies," and the "Closing Comments for Renewable Energy from Waste Conference."
If you like this content, sign up for GBB's newsletter, the GBB Waste Outlook.