Now in its fourth year, the Renewable Energy from Waste (REW) Conference will take place November 14-16, 2016 in Long Beach, CA. Established to provide the latest information for the rapidly developing and dynamic waste conversion industry, REW Conference is designed to broaden attendees' understanding of waste conversion technologies and the market trends that are critical to the development of new projects. More than 30 experts will share case studies and real-world experience in planning, implementing and operating successful projects during the 2016 event. We hope to see you there!
When: November 14-16, 2016
Where: The Westin Long Beach, CA
The event is an ideal environment for key industry players to learn, network, and exchange ideas, the conference provides deep insights into technology, markets and application of the technologies that can provide solutions to waste problems. Any business, waste and recycling firm, or government official trying to understand how energy recovery can be part of a waste diversion program will want to attend.
GBB on the Program:
Harvey Gershman

Pre-Conference Workshop
"Waste Conversion Market Update"
Conference Takeaways

Steve Simmons

"Advancing Gasification and Pyrolysis"

Ljupka Arsova

​"Opportunities in Biogas"
Conference Program
Two full days of sessions will cover a wide range of topics critical to understanding the industry, including:
The role of waste-to-energy in the circular economy;
National, state and local market outlooks;
Fuel processing innovations;
Structuring effective public-private partnerships; and
Opportunities for biogas.
Pre-Conference Workshop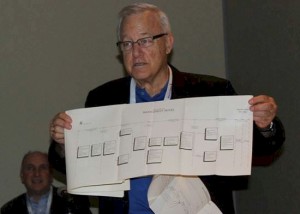 Attendees will also have the option to register, with a separate fee, for a half-day pre-conference workshop entitled "From Concept to Reality – Waste Conversion Project Implementation," led and facilitated by GBB. This is a unique opportunity, for public and private-sector conference attendees, to leverage and further maximize their conference experience by learning from, and exchanging ideas with, industry experts and colleagues with similar experiences in an intimate workshop setting conducive to in-depth discussions.
The workshop will show industry professionals how to cut through the noise and provide the technology overview, permitting and financing considerations, and project procurement approaches needed to successfully implement a waste conversion project that can help your integrated solid waste management system get closer to zero waste to landfill. The afternoon will be broken down into 4 sessions:
Status of Waste Conversion Technologies
Stephen Simmons
GBB Vice President
Permitting Considerations for Waste Conversion Project
Chip Clements, P.E.
President / Founder of Clements Environmental Corporation
Conducting a Procurement and Development Process
Harvey Gershman
GBB President
Involving an Investment Banker to Raise Equity and Debt
John May
Stern Brothers & Co Managing Director