On September 17, 2013, at the Solid Waste Association of North America's (SWANA) Awards Breakfast during WASTECON, GBB President and Co-Founder Harvey Gershman was presented with the 2013 Robert L. Lawrence Distinguished Service Award, one of the highest honors in the solid waste industry, for his significant contribution to the solid waste management profession.
The event is the annual celebration of the best in the solid waste industry, as evaluated by peers against rigorous professional criteria set forth by SWANA. The previous winners of the Robert L. Lawrence Distinguished Service Award, which is not necessarily presented every year, are: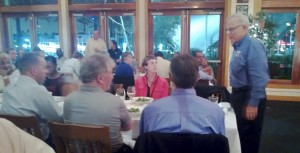 2012: Nancy Nevil
2008: Richard J. Mauck
2007: Lisa Skumatz
2005: John Lackie
2004: J. David Myers
2003: N.C. Vasuki
2002: Ronald Driedger
1999: Durwood S. Curling
1998: H. Lanier Hickman
1997: Raymond L. Huitric
1996: Clay Ervine
1995: Roger Power
1994: Timothy Hunt
1993: Frank Bowerman
1992: Richard Eldredge
1987: Robert Stearns
1986: Jerry Fairbanks
1985: Norman Jones
Two other 2013 Professional Achievement awards were presented:
Life Member Award: John W. Lackie, S.C., P. Eng.
Executive Director; SWANA Ontario Chapter and former SWANA International Board Member/Canadian Representative Ontario, Canada
Professional Achievement Award – Public Sector: Harvey Levitt
Operations Manager; Dalton-Whitfield Regional Solid Waste Management Authority, Dalton, GA
In addition, Excellence Awards were presented in 13 categories recognizing organizations for their outstanding programs and facilities that meet technical, economic and regulatory state-of-the-art standards.