Rivanna Solid Waste Authority, VA – Taking the Pulse of the Public
Over 500 Responses to Rivanna Solid Waste Authority's Online Survey
During the strategic planning process, GBB conducted a critical review of the RSWA's services and facilities; personally interviewed more than 50 community stakeholders; held discussions with the RSWA Citizens Advisory Committee; and conducted data and document review, a detailed technical evaluation, and benchmarking with five communities that are similar in one or more ways to the Charlottesville area. GBB also developed a public opinion survey asking residents to provide their suggestions for improvements to current facilities and services.
Residents of Charlottesville and Albemarle County, Virginia, have spoken: They want more opportunities to recycle and they are eager to have a more sustainable solid waste management system, even if it means paying more each month.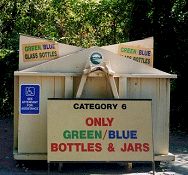 These sentiments were one finding of a six-month strategic planning process undertaken by GBB for the Rivanna Solid Waste Authority (RSWA). The RSWA asked GBB to examine solid waste and recycling services in the RSWA service area and explore improvements to the Authority's facilities and services that the public will support. Joining GBB for this project is Virginia-based Draper Aden Associates.
The objective of the process is to reach consensus among residents and elected officials on a viable solid waste management system that better serves the needs of residents of the City of Charlottesville, Albemarle County, and the Town of Scottsville, as well as the students and faculty of the University of Virginia and other institutions and businesses within the community.
A key question was: What kinds of changes would the community support?
To find out, GBB held more than 50 individual meetings with public officials, community leaders, business executives and solid waste officials. In addition, the company organized two community meetings in November and December 2007, and conducted two online surveys. Based on GBB's in-depth assessment of facilities and services operated by RSWA and benchmarking with similar communities around the country, GBB presented five possible scenarios for consideration by the community. These ranged from simply improving current facilities to a fully sustainable option with expanded recycling, a materials recovery facility and a facility that would burn non-recyclable solid waste materials for fuel or electricity. The surveys asked residents for their opinions of current facilities as well as their preferences among the five scenarios for the future.
RSWA received over 570 survey responses,which provided valuable input forthe draft strategic plan, currently under review by officials of the RSWA service area. "It's quite simple to summarize the feedback we received during the community meetings and via the online survey," said Harvey Gershman, GBB president. "The message was loud and clear: do more, spending as little as possible. Residents want to develop a new transfer station, provide curbside recyclables collection to residences and businesses in urban areas, and build a new MRF for recyclables and C&D material. As this is done, they want to start exploring further the next step: a refuse derived fuel or waste-to-energy facility for a sustainable system that could yield up to 93% diversion."