Fort Wayne, IN – Improving Services and Increasing Recycling
GBB Assisted Fort Wayne, IN, with Program Review, Procurement, Contracting, and Costs

In April 2010, GBB was selected by the City of Fort Wayne, IN, to review garbage and recycling collection programs; provide recommendations/direction for future programs; and oversee/support the procurement and negotiations process with vendors. The City ultimately received bids from five companies, and in mid-September 2010, the Fort Wayne City Council approved four contracts with National Serv-All to collect and dispose of the City's trash and recyclable materials for at least seven years. The agreement is expected to provide more services to residents, for less money, while improving recycling participation.
"We are very pleased with the results achieved and the significant role GBB played in the planning and execution of our Solid Waste and Recycling contracts," said Bob Kennedy, Director of Public Works of the City of Fort Wayne, "the firm's expertise in the solid waste management field was very beneficial for the City of Fort Wayne as can be seen by the competitive bids we received this past summer. Being able to lower residents' monthly fees by $.24 per month is a welcome change from Solid Waste bids received in the past."
The new collection contract, which includes providing a single container for residents to discard glass, metal, and paper recyclables, has a revenue sharing component that provides the City with half the net proceeds from the sale of its recyclable materials. It was originally expected to bring in approximately $130,000 a year to the City, compared to nothing in past collection contracts. Based on the successful results nine months within the first year of the contract, it was projected to generate $500,000 for the City in 2011.
In light of this success, the Indiana Association of Cities and Towns (IACT) presented the City two prestigious awards at its annual conference in late 2011. IACT officials recognized Fort Wayne with the Community Achievement Award for its recycling program and efficiencies that saved money, generated revenues, doubled community participation and reduced residential garbage fees by more than a million dollars. It also presented the City with the prominent Green Community Award, in great part due to the successful recycling program.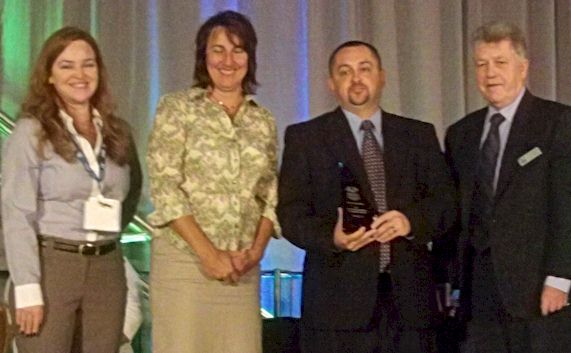 In June 2012, the Solid Waste Association of North America (SWANA) announced the winners of its 2012 Excellence Awards Program, which recognizes outstanding solid waste programs and facilities from some of the most innovative and dynamic organizations throughout North America. In the Collection Systems category, the City of Fort Wayne, finished first with the Gold Award for the implementation of the new collection program. They were recognized at the WASTECON 2012 conference held in August 2012 in Washington, DC.
The City of Fort Wayne, with an estimated 2008 population exceeding 250,000, is the county seat of Allen County. The second largest city in Indiana, after Indianapolis, it is located in northeastern Indiana, 20 miles west of the Ohio border and 50 miles south of the Michigan border.
Media Coverage