Metro Nashville and Davidson County, TN – District Energy System Project Study, Implementation and Administration Services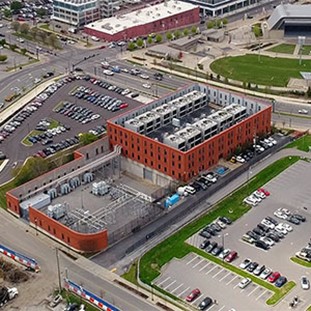 As a result of GBB's comprehensive solid waste management analysis for the Metropolitan Government of Nashville and Davidson County (Metro), Metro selected the alternative of replacing its aging and inefficient waste-to-energy Nashville Thermal Transfer Corporation facility ("Thermal") with a new District Energy System in downtown Nashville. GBB was retained by Metro to manage the procurement process for selecting a contractor to design, build and operate the new Energy system. GBB prepared the Request for Proposals, assisted Metro in evaluating the proposers, negotiated a successful contract with the selected proposer, and managed the implementation of the project.
GBB also was the lead consultant in the feasibility study leading to the successful financing of $66.7 million in bonds to finance, in part, the construction of the new 43,450 square foot, two-story building housing the highly efficient steam and chilled water generating facility.
The new facility, which began operating in December 2003, was implemented with several important objectives in mind:
To utilize state-of-the-art equipment and its high reliability;
To keep costs as reasonable as possible and very predictable to DES customers;
To be an attractive facility, both visually and to the environment;
To be a positive catalyst for economic stability and growth in downtown Nashville.
District Energy System Project Administration Services
GBB also served as Metro's Project Administrator to oversee all phases of the project. GBB led a team of advisors in providing the Metro Nashville DES Project Administration Services from the time transition activities initiated toward the end of construction of the Energy Generation Facility (EGF) and new Energy Distribution System (EDS) interconnection.
The GBB Team provided acceptance testing monitoring and a full range of project administration services during the commercial operations period. GBB was responsible for overseeing the use of the remaining amounts of the 2002A Bonds, the use of the 2005B Bonds; and establishing and tracking budgets. The GBB team also monitored and oversaw services provided to DES customers by CEPS. Additionally, the GBB team was instrumental in helping secure several new customers to the DES to include the Sun Trust Bank Building, Metro New Library, Metro Hume Fogg School, Viridian Tower, the new Schermerhorn Concert Hall, and the new Metro A.A. Birch Courthouse. As required, GBB team services included contract negotiations, design and construction monitoring of the interconnections as well.
During GBB's tenure as Project Administrator, the Metro Nashville DES has received several awards demonstrating its excellence. These awards include: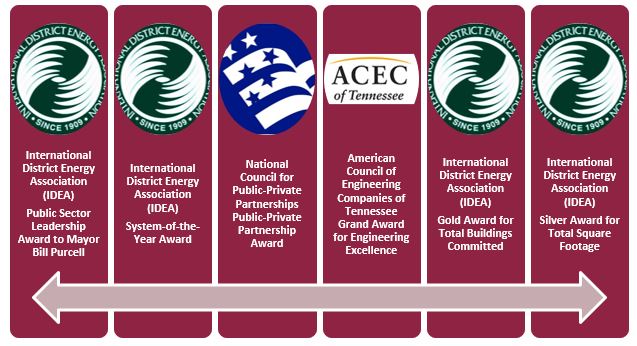 Testimonials:
"…thank you and your colleagues at GBB for your dedication, hard work and professionalism as we have worked together over the past seven years. […] The dedication and willingness of your entire team to consistently exceed expectations is deeply appreciated."
David Manning
Former Director of Finance
Metropolitan Government of Nashville and Davidson County, TN
"I would like to take this opportunity to let you [Harvey Gershman – Metro Nashville DES Project Administrator and GBB President] and know how much I appreciated how you and your organization handled the transition from the old Thermal plant to the new District Energy System.

There were several aspects of the process that were done particularly well. First and foremost the communication from you to us, the customer, was consistently timely and thorough.

I absolutely appreciated the customer meetings that you hosted that gave us a voice in the decisions concerning service interruption scheduling. Once a decision had been made to schedule the interruption of service, you always stayed inside your time estimates. That was most impressive and pleasantly surprising.

I would also like to commend Mr.Chuck Tucker. He and I spoke often throughout the process. He came to the Ryman and met with me and my maintenance staff and showed us the step-by-step process of shutting ourselves down prior to the service interruption and the reverse process for the restoration of service for both the steam and the chill water. It was very reassuring to know that Chuck was out there on the job.

In the aftermath of the transition, we have had nothing but flawless service. You can count Ryman Auditorium as a "satisfied customer""

Bob O'Neal
Operations Manager
Ryman Auditorium
Nashville, Tennessee
Related Links: