Transfer Station Siting Study (Prince George's County, Maryland)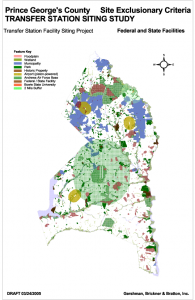 GBB performed a transfer station siting study for the Department of Environmental Resources of Prince George's County, Maryland, one of the largest counties in the Washington, D.C. metropolitan region with an area of over 500 square miles and a population of 820,000. The primary objective of the study was to evaluate sites and their suitability for use as a transfer station. GBB developed conceptual transfer station plans for a single and a dual transfer station options to process the 423,000 tons of residential solid waste that the County collects annually. The conceptual designs were based on key strategic factors and on the County's requirements, including capacity, multi-modal capability and aesthetics. Exclusionary screening criteria were identified and review with the County and included Chesapeake Bay Critical Areas, wetlands, flood plains, land use and air traffic restrictions. Prince George's County is the location of Andrews Air Force Base which is home to Air Force One. After screening the County to eliminate sites based on the exclusionary criteria, nine functional siting criteria were developed to use to rank the sites. Individual sites visits were conducted by a GBB team of experts to address the suitability of each site of the 25 based on their professional assessment. No physical analyses such as borings were made. The sites were scored against the nine criteria and recommendations made in the final report. The final report was presented to the Prince George's County Council Committee addressing the most suitable sites, their advantages and disadvantages, and their suitability for use as a transfer station site. The County Council has not yet made their decision.
I'm pleased to report that the Kent County Board of Public Works has approved the advancement of the Sustainable Business Park Master Plan that GBB developed. [...] GBB's comprehensive approach to the development of this Master Plan will allow us to move seamlessly into the implementation phase. Your agency's collective industry experience and willingness to bring local engineering consultants alongside the process has proven to be invaluable as we explore the variety of technologies in use across the world to help us reach our goals of reducing waste going to landfill by 90% by 2030.
Darwin J. Baas
Kent County, Michigan
Connect with us
2010 Corporate Ridge
Suite 510
McLean, VA 22102

(703) 573-5800
hello@gbbinc.com
Newsletter
GBB Waste Outlook
Sign up to have our newsletter, providing the latest news about GBB and the industry, sent to your inbox. Your email address will not be sold/provided to third-parties and will only be used by GBB to send the newsletter and occasionally reach out regarding our solid waste consulting services.
Current and past issues are also available to view/download.