In the News
In recognition of the immense damage brought by hurricanes Harvey, Irma, and Maria to our southern states, especially Florida and Texas, and to Puerto Rico, GBB has donated $1,000 to the Red Cross for the relief and recovery efforts. We encourage those who can to also contribute and donate. The American Red Cross is using donor dollars to provide shelter, food, comfort and emergency support for individuals and families affected by the hurricanes. Financial donations are used to help people recover and get back on their feet in the challenging weeks and months ahead.
On March 27, GBB President Harvey Gershman will be in Framingham, MA, at the SWANA Southern New England Recycling and Solid Waste Conference, co-located with the MASSRecycle R3 Conference, to talk about the latest solid waste conversion technologies, projects and trends. Visit MASSRecycle's website for more info and to register for the event.
Listen to GBB President Harvey Gershman providing some insight into the practical information that will be covered during the pre-conference workshop, "From Concept to Reality – Waste Conversion Project Implementation," held in advance of the Renewable Energy from Waste Conference, November 14-16 in Long Beach, California.
GBB has once again partnered with Renewable Energy from Waste (REW) magazine, to offer a series of webinars to help operators and project developers get the most value out of existing and proposed anaerobic digestion facilities.
The REW Summer School Series: Anaerobic Digestion, will provide key insights into the process of anaerobic digestion imperative to municipalities and companies deploying this anaerobic digestion as a way to capture value from a variety of organic waste streams. This three-part series provides key insights into how to make this technology profitable from the organic material introduced to the system to the final gas and digestate products produced.
Sign up for one or more sessions in this series and listen from the convenience of your office as speakers share how anaerobic digestion can create value for your operation and how the technology can vary from input to output.
WASTECON is right around the corner, on August 22-25, 2016, in Indianapolis, IN. GBB is proud to once again co-sponsor the Solid Waste Association of North America (SWANA)'s Young Professionals (YP) booth. Since 1980, GBB mentored and empowered dozens of young professionals who joined the firm as consultants or as part of the internship program. The internship program has provided opportunities to motivated individuals to acquire hands-on experience in the solid waste management industry, further their knowledge in the environmental field, and work with GBB consultants.
Additionally, GBB will be at booth #1219, right next to the break zone, and speak/moderate at thefollowing sessions:
"Waste-to-Energy on a Very Small Scale: The Metlakatla Indian Community Experience"
John Carlton, P.E., BCEE (Speaker)
Tuesday, August 23 at 5pm
"Waste-to-Energy Lessons Learned: A 30-Year Evaluation on Why Projects Succeeded or Failed"
Harvey Gershman (Speaker)
Wednesday, August 24 at 10:15am
"Yard Waste Composting Versus Landfill Gas Recovery: The Iowa Story: What Really Happened"
John Carlton, P.E., BCEE (Moderator)
Wednesday, August 24 at 10:15am
"The Measure of Success: How to Measure Recycling Program Success in the Era of the Changing Ton"
John Carlton, P.E., BCEE (Speaker)
Thursday, August 25 at 10:15am
See press release announcing the co-sponsorship of the SWANA YP booth.
We look forward to seeing you there!
Now in its fourth year, the Renewable Energy from Waste (REW) Conference will take place November 14-16, 2016 in Long Beach, CA. Established to provide the latest information for the rapidly developing and dynamic waste conversion industry, REW Conference is designed to broaden attendees' understanding of waste conversion technologies and the market trends that are critical to the development of new projects. More than 30 experts will share case studies and real-world experience in planning, implementing and operating successful projects during the 2016 event. We hope to see you there!
When: November 14-16, 2016
Where: The Westin Long Beach, CA
The event is an ideal environment for key industry players to learn, network, and exchange ideas, the conference provides deep insights into technology, markets and application of the technologies that can provide solutions to waste problems. Any business, waste and recycling firm, or government official trying to understand how energy recovery can be part of a waste diversion program will want to attend.
More Info, Overview, and Registration
GBB on the Program:
Harvey Gershman

Pre-Conference Workshop
"Waste Conversion Market Update"
Conference Takeaways

Steve Simmons

"Advancing Gasification and Pyrolysis"

Ljupka Arsova

​"Opportunities in Biogas"
Conference Program
Two full days of sessions will cover a wide range of topics critical to understanding the industry, including:
The role of waste-to-energy in the circular economy;
National, state and local market outlooks;
Fuel processing innovations;
Structuring effective public-private partnerships; and
Opportunities for biogas.
Pre-Conference Workshop
Attendees will also have the option to register, with a separate fee, for a half-day pre-conference workshop entitled "From Concept to Reality – Waste Conversion Project Implementation," led and facilitated by GBB. This is a unique opportunity, for public and private-sector conference attendees, to leverage and further maximize their conference experience by learning from, and exchanging ideas with, industry experts and colleagues with similar experiences in an intimate workshop setting conducive to in-depth discussions.
The workshop will show industry professionals how to cut through the noise and provide the technology overview, permitting and financing considerations, and project procurement approaches needed to successfully implement a waste conversion project that can help your integrated solid waste management system get closer to zero waste to landfill. The afternoon will be broken down into 4 sessions:
Status of Waste Conversion Technologies
Stephen Simmons
GBB Vice President
Permitting Considerations for Waste Conversion Project
Chip Clements, P.E.
President / Founder of Clements Environmental Corporation
Conducting a Procurement and Development Process
Harvey Gershman
GBB President
Involving an Investment Banker to Raise Equity and Debt
John May
Stern Brothers & Co Managing Director
Produced by:
Celebrated each year in the first full week of May, the International Compost Awareness Week is the largest and most comprehensive education initiative of the compost industry. Visit the US Composting Council website for information about activities to be held this year.
Having worked closely with Prince William County, VA, on the upcoming innovative organic waste processing facility public-private partnership, GBB is proud to sponsor the County's Compost Awareness Day held as part of the week festivities!
The Renewable Energy from Waste (REW) Conference has become firmly established as the premier event for the rapidly developing and dynamic waste conversion industry. No other conference delves as deep into the issues or offers the insights that the REW Conference continues to provide each year since 2013.
The 2015 edition, taking place November 16-19, in Orlando, FL, combines education, networking and tours to get the most value out of the event. See what past attendees had to say and learn what is in store for this year:
The unique event provides an environment to discuss a comprehensive range of waste conversion technologies, providing critical insight into the necessary technologies, regulations, and financing options shaping the industry and to build relationships with partners to enable companies to capture value within this fastest growing sector of the waste and recycling industry.
Sessions Include
Smart Business – A Look at Industrial Applications for RDF and Waste Conversion
An Optimal Environment – Why Waste-to-Energy Works in Florida
Financing in the Real World
Status Update – Waste Conversion Projects
Gasification and Advanced Biofuels are the Future
In addition to the core two days of educational sessions with presentations from more than 40 industry experts covering complex subjects and providing real-world advice, the conference features two optional events:
Workshop: Planning for success – Public Sector Planning and Implementation of Waste Conversion Projects
This half day workshop will provide an in-depth discussion and exchange on how to approach new projects to maximize return and address the many risks that need to be considered in structuring project agreements. Speakers:
Harvey Gershman, Gershman, Brickner & Bratton, Inc.
Rick Sapir, Hawkins, Delafield & Wood LLC
Mark Hammond, Solid Waste Authority of Palm Beach County
Tour: Harvest Power's Energy Garden in Orlando
Don't miss out on touring what has been described as one of the most innovative anaerobic digestion projects of its kind in North America. This facility provides waste management through its specially engineered design to codigest biosolids with food wastes from local resorts, restaurants, grocery stores, hotels, sports arenas, golf courses and the food processing community. The capacity is 130,000 tons per year with 5.4 megawatts of combined heat-and-power (CHP) output.
Produced by: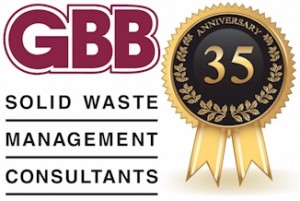 On August 11, 1980, Gershman, Brickner & Bratton, Inc. began operations as a solid waste management consulting firm with a passion for the environment and a desire to make a difference. Founders Harvey Gershman, Bob Brickner, and Tim Bratton believed that effective management of solid waste was an imperative that directly affected the health of our planet. In a world of limited resources, they regarded solid waste as a valuable resource that could be creatively managed while protecting our soil, air, water, and people. They considered sustainability to involve a balance among environmental, economic, and community needs. Achievement of this balance, along with cost-effective, efficient, and innovative solid waste solutions, was their passion and focus.
Thirty-five years later, this passion is still the driving force behind GBB, along with many award-winning facilities and services success stories, lessons learned, and great people met along the way.
GBB is celebrating 35 years of passion for the environment and, more importantly, 35 years of working with great employees, associates, clients, colleagues, and friends.
Thank you!
The second edition of the International Solid Waste Association (ISWA) Beacon Conference, entitled "Resources from Waste: Sorting and Treatment Techniques" is taking place October 14-15, 2015, in Hamburg, Germany. As part of the "Separation of Metal from Incinerator Ash and Industrial Slags" session, Bob Brickner will make a presentation on the Incinerator ash metals recycling project at the Harrisburg, PA plant.
Learn more about the conference: