In the News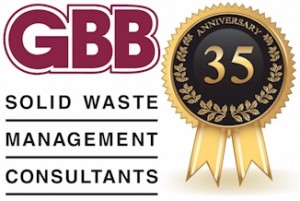 On August 11, 1980, Gershman, Brickner & Bratton, Inc. began operations as a solid waste management consulting firm with a passion for the environment and a desire to make a difference. Founders Harvey Gershman, Bob Brickner, and Tim Bratton believed that effective management of solid waste was an imperative that directly affected the health of our planet. In a world of limited resources, they regarded solid waste as a valuable resource that could be creatively managed while protecting our soil, air, water, and people. They considered sustainability to involve a balance among environmental, economic, and community needs. Achievement of this balance, along with cost-effective, efficient, and innovative solid waste solutions, was their passion and focus.
Thirty-five years later, this passion is still the driving force behind GBB, along with many award-winning facilities and services success stories, lessons learned, and great people met along the way.
GBB is celebrating 35 years of passion for the environment and, more importantly, 35 years of working with great employees, associates, clients, colleagues, and friends.
Thank you!
The second edition of the International Solid Waste Association (ISWA) Beacon Conference, entitled "Resources from Waste: Sorting and Treatment Techniques" is taking place October 14-15, 2015, in Hamburg, Germany. As part of the "Separation of Metal from Incinerator Ash and Industrial Slags" session, Bob Brickner will make a presentation on the Incinerator ash metals recycling project at the Harrisburg, PA plant.
Learn more about the conference:
On June 24, 2015, the American Chemistry Council (ACC) issued a news release announcing the publication of a report on mixed waste processing, prepared by Gershman, Brickner & Bratton, Inc.
On May 31, 2016, the ACC published a supplemental report, prepared by GBB, that examines ten types of equipment, including optical sorting systems, bag openers, air separation systems and densifiers. The evaluations include the quality of the finished product, the volumes that are captured versus lost, and the speed at which the processing equipment works.
Both reports were commissioned by the Plastics Division of the ACC, which is examining methods to increase recovery of plastics.
Learn more:
Everyone wants to do better with municipal solid waste, and mechanical biological treatment (MBT) is one avenue. But is it right for every community? The single best place to learn about MBT is where it's being done, by the folks who know the most about it. That happens only once every two years in Germany with renowned MBT expert Dr. Matthias Kuehle-Weidemeier, CEO of the Germany-based waste treatment specialists Wasteconsult International. Your next chance to hear from Dr. Kuehle-Weidemeier is this May in Hanover, Germany.
With participants from about 40 countries attending previous editions, Waste-to-Resources is the world's largest conference on MBT & Material Recovery Facilities (MRF). The combination of conference, commercial exhibition, and site visits will make Waste-to-Resources 2015 again a prime event for operators, authorities, consultants, and technology providers. The conference, which will be held May 5-8, 2015, will cover a wide range of topics, including:
MBT & MRF in different countries
Targets, legal aspects, boundary values
Basics, possibilities, limits, and relevance of MBT & MRF
Competition and material (waste) streams
Functionality, economic efficiency, and lifecycle balance
Experience with new and rebuilt plants
New developments in machine and system engineering
Anaerobic digestion of organic waste fractions
Energy recovery by RDF power plants, gasification, liquidization, and more
Conditioning, use, and sale of MBT & MRF output fractions (e.g. RDF, metals)
Process control and analytics
Emissions and their treatment
Bio/Pyro and Hydro-char (HTC)
Landfilling of MBT-waste
North American Workshop
As part of the conference, GBB will host a special complimentary workshop for colleagues from North America, on May 7, 2015, from 11:00 a.m. to 1:00 p.m. This workshop will be tailored for and limited to attendees from North America, and will be facilitated by John Carlton, P.E., BCEE, Senior Vice President with GBB and Dr. Kuehle-Weidemeier, and supported by Michael Balhar, CEO of ASA GmbH. The workshop will feature a facilitated discussion on the following topics:
The development of modern MBT systems and how they can reduce landfill input and aftercare costs;
Insight into commercial MBT systems in Europe and how these systems could work in North America;
Practical experience and lessons learned from operating MBT systems in Europe; and
Implementing MBT processing as part of a North American integrated solid waste management system.
In addition, there will be reserved time to discuss your specific operating systems or solid waste management strategies and brainstorm together the best way to incorporate MBT into your current or future plans. After attending this workshop, attendees will come away with the latest information on MBT and how it could play a role in helping achieve their solid waste management goals.
As a bonus, in addition to access to the special North American workshop, North American attendees will also receive the proceedings (448 pages) of the previous Waste-to-Resources conference as a bonus.
To view the conference program, register, and reserve your space at this workshop, please visit www.waste-to-resources.eu.
We hope to see you there!
In the summer of 2017, Prince William County, the second-most populous County in Virginia, located about 35 miles west of Washington, DC, is scheduled to inaugurate a brand new facility to process yard waste, food scraps, and wood waste.
The innovative public-private partnership (PPP) with Northern Virginia-based Freestate Farms LLC was approved by the Prince William Board of County Supervisors at their January 20, 2015 meeting. As per the 20-year agreement, which includes extension options, beginning July 1, 2015, Freestate will start processing organic material currently received by the County using existing processes while the new facility is under construction.  Phased construction of the new facility should take approximately two years.
When completed, the facility will recycle more than 80,000 tons of organic waste a year into high-value compost, soil products, and non-synthetic fertilizers. It will also generate baseload renewable energy and environmental attributes; and it will produce sustainable and locally-grown fresh fruits and vegetables for sale back into the community.  New processes/operations at the facility will include:
Advanced Aerobic Composting of Yard Waste
Anaerobic Digestion of Food Waste
Combined Heat and Power Production
Greenhouse Operation
GBB has been working closely with the County on the technical and economic feasibility study, planning and implementation of the Prince William Renewable Energy Park, and on the procurement process for this new state-of-the-art organics facility. Among the expected benefits of the PPP are the creation of 20-25 jobs, increased organics processing capacity, increased recycling rate, extended landfill life, and setting a solid foundation on which to build a comprehensive County-wide organic waste management program.
Tom Smith, Solid Waste Division Chief, provides information about the new facility and transition period in this short Prince William County video:
More info:
In a Court Order dated March 17, 2008, U.S. District Court Judge Frances M. Tydingco-Gatewood appointed GBB to be Guam Receiver with full responsibility for bringing the Guam Solid Waste Management Division, now the Guam Solid Waste Authority (GSWA), into compliance with the 2004 Consent Decree for violation of the Clean Water Act. Information about the receivership and the Guam Solid Waste Authority is available at:
Featured News:
Final environmental closure for Ordot Dump – KUAM News (March 27, 2016)

Harmon Solid Waste Station Opens – KUAM News (January 23, 2015)

On July 15, 2014, GBB Executive Vice President and Co-Founder Bob Brickner attended the grand opening of quasar energy group's new high-solids anaerobic digestion project in the City of Wooster, OH, approximately 50 miles southwest of Cleveland. Along with 200 other attendees, Bob participated in the daylong event that included the official ceremonies; lunch; guest speakers from quasar, the City, Ohio House of Representatives, Ohio Senate, U.S. Department of Agriculture, and the Northeast Section of the Ohio Water Environment Association; and a technical tour of the plant.
The new facility, funded in part by the USDA Rural Energy for America Program and the Ohio Development Services Agency, is located on the grounds of the City of Wooster Water Pollution Control Plant. The retrofit transformation of the plant, with the newly installed Nutrient Resource Recovery System, helped turn the traditional 50+ year old wastewater treatment plant into a water resource recovery facility, recycling energy and nutrients from the waste stream while reducing operating costs and expanding capacity.
The 1.8 million gallon tank, with an annual input capacity of 100,000 wet tons of organic biomass and wastewater treatment plant biosolids, can generate 810 kW of electricity. Under a long-term contract with the City, quasar privately funded the project will operate and monitor the three anaerobic digesters that will be able to manage five times the throughput of the original system while meeting EPA regulations. The retrofit has allowed the City of Wooster to provide 100 percent of the electricity to run the entire WWTP/digester facility as well as provide waste management solutions to businesses interested in relocating to the area, according to City staff.
Bob noted that this is the third alternative technology facility grand opening that he has attended in the space of just a couple of months, after Infinitus in Montgomery Alabama and Enerkem in Alberta, Canada earlier this year. "This is a testament to the evolution going on in the industry, and the ability of technologies to successfully move from concept and demonstration to reality," he said.
Related Stories:
Bob Brickner, GBB Executive Vice President and Co-Founder, attended the June 4, 2014 inauguration of the Enerkem solid waste to Methanol facility in Edmonton, Alberta, as the plant begins formal commissioning of the gasification module. Well-wishers from all over Canada, and a few from the U.S., made the trek to see the more than $100 million facility first hand.
Bob was not only able to participate in the formal event at the Enerkem location on the City of Edmonton's extensive waste campus in the northeastern part of the city, but was also able to tour the adjacent new Vecoplan system supplied to the waste processing facility. The Vecoplan facility processes solid waste and generates the prepared feedstock fired in the Enerkem gasifier.
Bob noted to GBB staff that, "The trip by one of GBB's owners to Canada is part of our continuing commitment for GBB to be on hand to help fulfill the "build it, and they will come" philosophy. We are so happy that new Alternative Conversion Technologies are starting to be constructed and operated at a commercial scale to help define their potential viability for our clients. Studies alone are getting old, so having some actual projects come online is great for the industry. It is time to move past the sketches and computer-generated drawings and on to seeing the real McCoy, so to speak. We are all excited to see how the actual operations stage goes as the new bells and whistles get turned on at these initial commercial sized plants."
Bob reported that the weather for the event was great, and the snow cover that has been seen in almost all of the Enerkem construction pictures at their conference talks for the past two winters was melted.
The event attracted most of the local, provincial, and federal government funding sources and many of Enerkem's private investors as well. There appeared to be only a handful of people from the U.S. in attendance, but GBB definitely appreciated the invitation and the opportunity to share a great ribbon-cutting day with our Canadian friends to the north.
Bob's additional observation to GBB staff was, "We now finally also have an MSW fuel preparation facility in front of a large commercial scale gasification facility firing an RDF-like product. Hopefully the Enerkem facility planned for Pontotoc, Mississippi, can now get primed and advanced with the USDOE and USDA funding support already in place."
Related Stories:
As part of GBB's constant effort to review and keep track of new and innovative technologies for its client reviews, Bob Brickner, GBB Executive Vice President and Co-Founder, traveled to the City of Montgomery, Alabama on April 15, 2014, to participate in the grand opening of the new high-tech 80,000 square feet "state-of-the-art" Dirty MRF built by Infinitus at a capital cost in excess of $30 million.
Bob noted that it was a very high-profile event that not only attracted local and state politicians, but a wide array of the key staff responsible for the sale and execution for what could be called the first "One Bin for All" MSW processing system in the U.S. Infinitus welcomed the 150 or so attendees with the red carpet treatment, including a unique ice sculpture IREP logo" in the midst of their food display. The event was held on what will soon be the "waste tipping floor" of the plant. Speeches from the CEO of Infinitus, Alabama's Governor, and the Mayor of the City of Montgomery followed.
Bob was treated to a detailed behind-the-scenes consultant tour of the Infinitus processing system, which allowed him full access to review all of the processing equipment that was supplied and integrated into the system by the main equipment subcontractor, Bulk Handling Systems. The one-line processing facility, with a 40 ton per hour input capacity, features material recovery guarantees of sixty percent (60%) of the input MSW, plus other organics separation capabilities. Over 100,000 tons per year will be delivered to the Infinitus project by the City of Montgomery under a long-term contract.
Bob's primary observation made to GBB staff after the trip was, "Now that we have a real Dirty MRF constructed, from scratch, and soon to be operational on the entire MSW stream, we will be able to confirm some of the myths and controversy about the capabilities of today's highly automated and sophisticated equipment to separate, recover, and then market recyclable materials from the processing of mixed MSW. This could be a real game changer for the industry, and everyone is watching how this "one bin for all" project works."
Related Stories:
In mid-March 2014, a GBB Project Team conducted a waste characterization study of 400 garbage and 400 recycle carts for the City of Fort Worth, TX. The study and projections will be used by the City in the evaluation of its Pay-as-you-throw (PAYT) collection system and other waste and recycling programs to accurately quantify and characterize the composition of the waste and recyclables streams generated by City residents. The waste was sampled from collection carts randomly selected by the City in a "snapshot" waste sorting approach.
Media coverage:
Interview with Elizabeth Rice, GBB Consultant II: