Category Archives:
In the News
Renewable Energy from Waste Conference: Premier Waste Conversion Industry Event

Now in its 4th year, the Renewable Energy from Waste Conference, produced by Recycling Today and GBB, will take place November 14-16, 2016 in Long Beach, CA. We hope to see you there – Register now!
International Compost Awareness Week
Celebrated each year in the first full week of May, the International Compost Awareness Week is the largest and most comprehensive education initiative of the compost industry. Visit the US Composting Council website for information about activities to be held this year.
Having worked closely with Prince William County, VA, on the upcoming innovative organic waste processing facility public-private partnership, GBB is proud to sponsor the County's Compost Awareness Day held as part of the week festivities!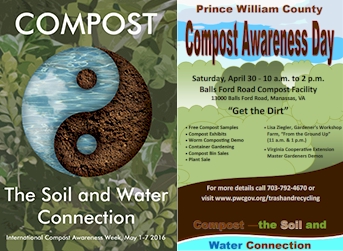 Renewable Energy from Waste Conference: 3rd Edition of the Premier Event in the Waste Conversion Industry
The Renewable Energy from Waste (REW) Conference, produced by Recycling Today Events and GBB, has become firmly established as the premier event for the rapidly developing and dynamic waste conversion industry. We hope to see you there!
GBB Celebrates 35th Anniversary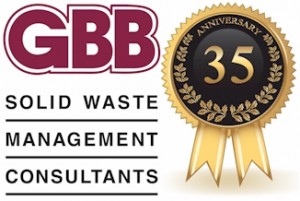 On August 11, 1980, Gershman, Brickner & Bratton, Inc. began operations as a solid waste management consulting firm. This year, we are celebrating 35 years of passion for the environment and, more importantly, 35 years of working with great employees, associates, clients, colleagues, and friends.
Bob Brickner to Speak at the ISWA Beacon Conference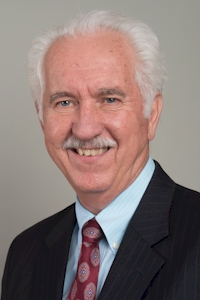 Bob Brickner will make a presentation on the Incinerator ash metals recycling project at the Harrisburg, PA plant at the upcoming International Solid Waste Association (ISWA) Beacon Conference focusing on "Resources from Waste: Sorting and Treatment Techniques" in Germany. See the brochure for more information.
Mixed Waste Processing Reports Published by the American Chemistry Council
On June 24, 2015, the American Chemistry Council issued a news release announcing the publication of a report prepared by GBB, entitled "The Evolution of Mixed Waste Processing Facilities – 1970-Today." See the press release and complete report.
Special North American Workshop at the 2015 International Symposium on MBT, MRF & Recycling in Germany

The single best place to learn about MBT is where it's being done, by the folks who know the most about it. That happens only once every two years in Germany at the International Symposium on MBT, MRF & Recycling. Learn more about the upcoming event and the special workshop and past conference proceedings (448 pages) offered as a bonus to North American attendees.
Prince William County, VA, Moves Forward With Organic Waste Processing Facility
GBB assisted Prince William County, VA, with the planning and procurement of an innovative public-private partnership for a new facility to process yard waste, food scraps, and wood waste. Tom Smith, Solid Waste Division Chief, talks about the project:

Guam Receiver Updates
In a Court Order dated March 17, 2008, U.S. District Court Judge Frances M. Tydingco-Gatewood appointed GBB to be Receiver with full responsibility for bringing the Guam Solid Waste Management Division, now the Guam Solid Waste Authority (GSWA), into compliance with the 2004 Consent Decree for violation of the Clean Water Act. Click here for more information and links to news and information about the Receivership.
GBB's Bob Brickner Attends quasar's Grand Opening of New AD Project in Ohio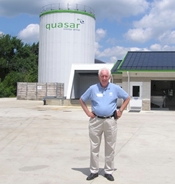 This summer, GBB's Bob Brickner attended the Grand Opening and ribbon cutting ceremony of quasar energy group's new high-solids anaerobic digestion (AD) project in Wooster, OH. The new facility turns the City's traditional wastewater treatment plant into a water resource recovery facility, recycling energy and nutrients from the waste stream while reducing operating costs and expanding capacity.