Study of Mixed Waste Processing Facilities (American Chemistry Council)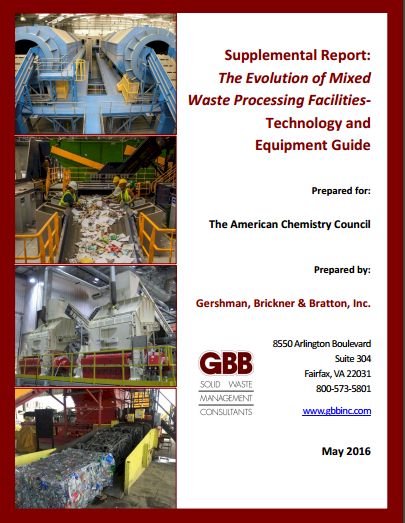 Interest in mixed waste processing (MWP) facilities is an emerging trend in municipal solid waste (MSW) management. This technology is drawing increasing interest from diverse municipalities across the United States and the American Chemistry Council's (ACC) Plastics Division was seeking to learn more about such facilities, as well as recent developments in the technology that will enable these facilities to be part of an integrated waste management system that impact plastics recycling and recovery. GBB was selected to research MWP facilities in the United States as well as international companies looking to sell into the U.S. market and compile its finding into a report entitled "The Evolution of Mixed Waste Processing Facilities – 1970 to Today" which is available on ACC's website.
GBB was subsequently tasked to prepare a supplemental report reviewing ten specific types of commercially proven equipment that are traditionally used or adapted for the handling of solid waste, such as optical sorting systems, bag openers, and air separation systems and densifiers. The report describes how each type of equipment is uniquely designed for the separation of certain constituents in MSW for both MRFs and MWPFs. The evaluation includes the quality of the finished product; the volume that is captured versus lost; and the speeds at which the processing equipment works.
The supplemental report, entitled "The Evolution of Mixed Waste Processing Facilities—Technology and Equipment Guide" is also available on ACC's website.
I'm pleased to report that the Kent County Board of Public Works has approved the advancement of the Sustainable Business Park Master Plan that GBB developed. [...] GBB's comprehensive approach to the development of this Master Plan will allow us to move seamlessly into the implementation phase. Your agency's collective industry experience and willingness to bring local engineering consultants alongside the process has proven to be invaluable as we explore the variety of technologies in use across the world to help us reach our goals of reducing waste going to landfill by 90% by 2030.
Darwin J. Baas
Kent County, Michigan
Connect with us
2010 Corporate Ridge
Suite 510
McLean, VA 22102

(703) 573-5800
hello@gbbinc.com
Newsletter
GBB Waste Outlook
Sign up to have our newsletter, providing the latest news about GBB and the industry, sent to your inbox. Your email address will not be sold/provided to third-parties and will only be used by GBB to send the newsletter and occasionally reach out regarding our solid waste consulting services.
Current and past issues are also available to view/download.