For more information, contact:
Ashlea Smith
Marketing Manager
Gershman, Brickner & Bratton, Inc.
(703) 573-5800 / hello@gbbinc.com
Vienna, VA (November 21, 2022) – Gershman, Brickner & Bratton, Inc. (GBB) is pleased to announce that Morgan McCarthy has joined the firm as a Project Manager. Ms. McCarthy has over 13 years of environmental, recycling, and waste management experience as a consultant and in the private sector. In addition to working closely with multiple cities and counties as a consultant and company executive, she briefly worked on various initiatives for a city in California, gaining firsthand experience with public sector management and operations.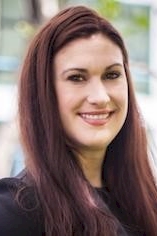 "Morgan has a unique and solid background," said GBB Senior Vice President Chris Lund. "The combination of her solid waste and environmental industry experience, law degree, and contracting expertise will benefit the GBB clients almost immediately."
Before joining GBB, she was a Project Manager for two West Coast environmental consulting firms, where she led a wide range of projects assisting local governments in providing efficient and sustainable environmental services and programs to residents. Before that, she had key roles with regional Southern California companies providing waste removal services/equipment and recycling programs. In addition to her environmental expertise, she holds a law degree and has extensive valuable experience with contract drafting, development, review, and negotiation; regulatory compliance; and compliance with local, state, and federal regulations.
"I'm thrilled to be joining the team at GBB and working with a group of remarkable people who truly believe in imagineering solutions for the benefit of communities and the environment," says McCarthy, "I believe Robert Swan said it best, "The greatest threat to our planet is the belief that someone else will save it." I have worked in the waste industry for over 16 years and have seen the truth of that statement. It's imperative that we are all a part of the solution."
Ms. McCarthy has a Juris Doctor in Law degree from the Thomas Jefferson School of Law and graduated magna cum laude with a Bachelor of Science degree in Computer Science from Liberty University. She is also actively involved in several national, regional, and local professional associations dedicated to promoting recycling and advancing environmentally and economically sound solid waste management practices. Based in Kentucky, she can be reached at mmccarthy@gbbinc.com and (202) 869-2448.
About GBB
GBB is a carbon-neutral, award-winning, national solid waste management consulting and planning firm founded in 1980 that helps public and private entities solve their most challenging waste and material management issues. GBB's mission is to provide safe, innovative, responsible, sustainable, and economic strategies and solutions to benefit communities and the environment. GBB advises clients on solid waste collection, processing, recycling, recovery, sustainable materials management, and environmentally responsible disposal and assists in planning, procuring, and implementing sound, cost-effective facilities, and services.
GBB's Vision: A world where discarded materials are used as resources rather than wasted.
Visit GBB online at www.GBBinc.com, www.linkedin.com/company/gershman-brickner-&-bratton-inc-, facebook.com/gbbinc, twitter.com/gbbinc, or call us at (703) 573-5800.
###