Morgan Turner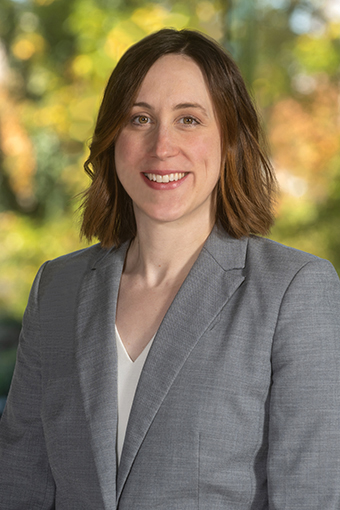 Senior Project Manager
Education:
MS, Environmental Science and Policy – Resource Management, University of Wisconsin-Green Bay, WI
BS, Civil Engineering, Michigan Technology University, Houghton, MI  
Certifications:
TRUE Zero Waste Advisor (Total Resource Use and Efficiency) from Green Business Certification Inc. (2019 – Present)
Licensed Engineer in Training (EIT), Eligible for Professional Engineer (PE) License (2008)
Specialties:
Zero Waste; Waste Diversion; Recycling; Waste Composition Studies; Community Outreach; Environmental Assessment; Waste Management Contracting; Composting; and Airport Recycling, Reuse, and Waste Reduction.
"I am committed to creating healthy, resilient communities and organizations through the development and implementation of actionable zero waste strategies and policies"
Ms. Turner, a certified TRUE Zero Waste Advisor with over 12 years of waste diversion, engineering and planning experience, recently joined GBB as a Senior Project Manager. She previously led Mead & Hunt's Waste Diversion Planning Service and was responsible for evaluating existing waste programs and developing recommendations for reduced waste generation and improved landfill diversion.
She is passionate about keeping material out of the landfill and strives to uncover small tweaks that can increase diversion at facilities of all sizes. Morgan has a strong understanding of zero waste strategies; solid waste regulations; environmental management systems, and sustainability practices.
A technical expert in airport waste strategies, she has authored several waste management plans for airports around the country. She conducted on-site waste stream composition studies; recommended tailored reduction, reuse, donation, recycling, composting, and other innovative strategies to meet facility objectives; and assisted airports in complying with requirements under the FAA Modernization and Reform Act of 2012 (FMRA). She is familiar with the operational, contractual, financial, logistical, and other limitations airports face in implementing waste initiatives and provides coordinated plans to address these challenges.
Publications & Speeches
"Tackling Litter & Recycling Contamination – Technology Tools for Parks & Outdoor Public Spaces," presented at GreenThinking Webinar. (February 2022)
"Airports Face Holiday Travel Rush and Resulting Waste," published in Waste Today. (November/December 2021)
"Modern Landfill Diversion Strategies," published in The Military Engineer. (January 2020)
"En Route: Sustainable Waste Management at Airports," presented at SWANApalooza. (2019)
"Trash Update (Airports Cooperative Research Program Synthesis Update)," presented at the Airports Council International Airports at Work Conference. (2019)
"Airport Waste Management and Recycling Practices (Synthesis 92)," published by the Transportation Research Board Airport Cooperative Research Program. (2018)
"Sustainable Materials Management Innovations Across Facilities and Programs," presented at the Michigan Recycling Coalition Annual Conference. (2018)
"Beyond Recycling: Increasing Waste Diversion at Airports," presented on Airports Consultants Council webinar. (2018)