Morgan McCarthy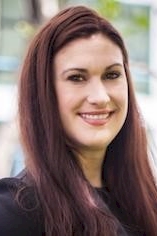 Project Manager Education:
Juris Doctor in Law, Thomas Jefferson School of Law, San Diego, CA
BS, Computer Science, Liberty University, Lynchburg, VA  
Specialties:
Waste & Recycling Facility Operations; Waste & Recycling Program Optimization; Community Recycling Programs; Procurement and Contract Negotiation; Waste Audit; Feasibility Studies; Financial Analysis; Capital Improvement Projects; Compressed Natural Gas Project Development; Regulatory Compliance; Legal Research.
"It's imperative that we are all a part of the solution to save the planet, which is why I work diligently at imagineering solutions for the benefit of communities and the environment."
Ms. McCarthy, GBB Project Manager, has over 13 years of environmental, recycling and waste management experience as a consultant and in the private sector. In addition to working closely with multiple cities and counties as a consultant and company executive, she briefly worked on various initiatives for a city in California, gaining firsthand experience with public sector management and operations.
For over six years, prior to joining GBB, she was Project Manager for two West Coast environmental consulting firms where she led a wide range of projects assisting local governments in providing efficient and sustainable environmental services and programs to residents.
Before that, for nearly seven years, she had key roles with regional Southern California companies providing waste removal services/equipment and recycling programs. She supervised daily operations for a recycling facility/container rental firm, improving recycling and diversion operation by over 30%. She also led multiple special projects for a company providing waste removal and recycling programs for residential/commercial/industrial clients.
In addition to her environmental expertise, she holds a law degree and has extensive valuable expertise and experience with contract drafting, development, review, and negotiation; regulatory compliance; and compliance with local, state, and federal regulations.