Theresa Evans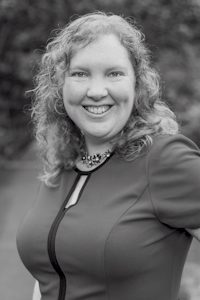 Senior Consultant
Education:
BS, Environmental Studies, State University of New York College of Environmental Science and Forestry, Syracuse, NY
Certifications:
SWANA / CRRA Certified Practitioner in Zero Waste Principles and Practices

OSHA 10 Hour General Industry Certification
Areas of Expertise:
Recycling; waste reduction; sustainability; composting; public education & outreach; materials recovery facilities; and, research and analysis.
"I am driven to engage clients in sustainable materials management, to the benefit of local economies and the environment. Through collaboration and creativity, I look forward to accelerating waste reduction and recycling goals."
Ms. Evans is an enthusiastic sustainability professional with 8 years of public-sector experience with the Onondaga County Resource Recovery Agency in Central New York, where as a Recycling Specialist she worked on a wide range of projects and programs, including award-winning recycling and composting initiatives; collaboration with a waste-to-energy facility turning non-recyclable trash into electricity and recovering metal for recycling; trash and recycling drop-off sites; and numerous collection programs for recycling and proper disposal of hard-to-manage materials.
Speeches
A skilled and engaging communicator, Ms. Evans has made 500+ classroom and public education presentations to students and diverse community groups and participated in 15+ annual events to engage with residents and facilitate hands-on trainings and interactive games. She also frequently presents at waste and recycling industry conferences.
"Large Waste Requires Large Solutions," published in Waste Today. (July 2023)
"Increasing Authentic Public Participation in New York State Solid Waste Management Planning: Industry Best Practices & Kent County, MI Sustainable Business Park Development Case Study," presented at the New York Federation of Solid Waste & Recycling Conference (May 2022)
"Waste Not ‐ The Circular Economy: Reuse, Recycle, Reduce and Recover," presented at the New York State Association of Conservation Commissions Conference on the Environment (October 2021)
"Recycling is Mightier than the Sword," presented at the Wells College Sustainability Perspective Event, Aurora, NY. (March 2019)
"Waste360 40 Under 40 Award Winners," (moderator) presented at the Strive for Sustainability Solid Waste & Recycling Conference from the Federation of New York Solid Waste Associations, Lake George, NY. (May 2017)
"An Interactive Web Approach to Environmental Education," presented at the New York State Association for Reduction, Reuse and Recycling Conference, NY. (November 2016)