Stephen Simmons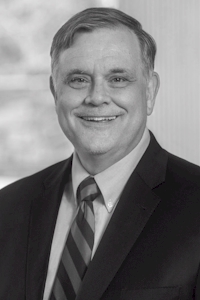 President
Education:
BS, Mechanical Engineering, University of Missouri, Rolla, MO
Certification:
Professional Certificate, Energy Policy & Sustainability, University of Denver, CO
Areas of Expertise:
Renewable energy; technology evaluation; business financial modeling; and facility design, procurement, and construction.
"I believe the creative forces of the market will serve as the most effective pathway in solving the problems relating to  climate change and resource depletion."
Mr. Simmons is a sustainable development business leader with 40 years of experience in the environmental services and energy industries. He is highly experienced in program and project management, new business development, waste and power marketing, technology evaluation, business financial modeling, profit and loss management, facility design, procurement, and construction having worked with leading international engineering/consulting firms and energy companies.
As the President of GBB, he provides leadership for a team of executives, consultants, and subject matter experts who are dedicated to helping clients transition their business models, policies, programs, and infrastructure to long-term circular, sustainable, and economical systems.
He frequently serves as the Company's Senior Project Principal for engagements involving waste processing and conversion, technology evaluation and selection, market assessments, acquisition due diligence, expert witness, and contract negotiations.
Throughout his career, Steve has helped communities and companies develop programs and projects implementing the 3 Ps of sustainability: planet, people, profit. He has extensive renewable energy experience, having managed the development, construction, and operation of projects with capital budgets in the hundreds of millions of dollars. These facilities have produced millions of megawatt-hours of renewable energy, displacing millions of tons of fossil fuels.
Before joining GBB, he worked with Duke Energy, leading a new business development team focused on the biopower sector. Facilities were developed that converted forestry waste into clean, renewable energy.
As an asset and P&L manager with American Ref-Fuel (now Covanta Energy), he directed a renewable energy business unit's sales, marketing, governmental, and community affairs efforts with $65 million in annual sales and 125 employees. His team took on the troubled facility and brought it from an annual $10 million loss to a $5 million profit in 3 years.
Interviews
"Is Jet Fuel from Waste Finally Ready for Takeoff?" published in Waste Dive. (March 2022)
"Pandemics Were Not Part of Most Contingency Plans, But Waste and Recycling Industry Proving Resilient," published in Waste Dive. (April 2020)
"The Race Is On To Repurpose Garbage," published in Chemical & Engineering News. (October 2019)
"Solid Recovered Fuels: The Next Frontier for Fossil Fuel Alternatives?," published in Waste360. (September 2019)
"Executive Q&A: GBB President Steve Simmons," published in Waste Today. (December 2018)
Publications & Speeches
"Resource Recovery Parks," presented at the National Recycling Congress. (November 2022)
"Waste Conversion Technologies, Fantasy or Reality," presented at WasteExpo. (May 2022)
"Advancing the Circular Economy in Western Michigan – The Kent County Sustainable Business Park Story," presented at WasteExpo. (May 2020)
"Kent County, Michigan's Sustainable Business Park," presented at the Ohio By‐Product Synergy Network. (December 2020)
"Legislation and Policies Needed to Reach Zero Waste to Landfill by 2040," presented at Virtual SWANApalooza. (June 2020)
"What Is The True Cost Of Zero Waste To Landfill Infrastructure?" published in Waste Today. (March 2020)
"Opportunities for Florida: Zero Waste to Landfill and Creating a Circular Economy," presented at the SWANA Florida / Recycle Florida Today Joint Summit. (January 2020)
"Our Circular Economy: Transforming Ideas into Action," presented at WASTECON. (October 2019)
"What's New in Waste Conversion Technology," published in Waste Today. (August 2019)
"The Future of Franchising," presented at WasteExpo. (May 2019)
"Creating an Industrial Ecosystem – Building a circular economy starting with what was supposed to be a landfill expansion," published in MSW Management magazine. (January-February 2019)
"Energy Recovery in Resource Recovery Parks: The Kent County, MI Project," presented at the Waste-to-Energy Research and Technology Council Bi-Annual Conference. (October 2018)
"The Future Ain't What It Used To Be," published in Waste Today. (September 2018)
"Advances in the Development of Resource Recovery Parks," presented at the North American Waste-to-Energy Conference. (May 2018)
"Waste Conversion Technology Projects Advance in 2017," published in Waste Today. (January 2018)
"Waste-to-Energy Technologies," presented at the Arizona Tribal Energy Association Meeting. (January 2018)
"Is the US Ready for a Paradigm Shift in Solid Waste Management?" published in Waste Today. (November 2017)
"Waste Conversion Technologies for Minnesota," presented at the Recycling Association of Minnesota / SWANA Conference. (October 2017)
"Kent County, MI, Resource Recovery Park," presented at the Renewable Energy from Waste Conference Webinar. (October 2017)
"Waste Conversion Technologies for Pennsylvania," presented at the Keystone SWANA / Pennsylvania Waste Industries Association Conference. (September 2017)
"Circular Economy Actions: Cities and Solid Waste Management," presented at the Sustainability and Circular Economy Summit. (June 2017)
"Better Waste Management Can Help Reduce Greenhouse Gases… Says Science!" published in Waste Today. (May 2017)
"Training: Waste Conversion Technologies 101," presented at the SWANA Northern New England Chapter Seminar. (February 2017)
"Advancing Gasification and Pyrolysis," presented at the Renewable Energy from Waste Conference. (November 2016)
"Status of Waste Conversion Technologies," presented at the Pre-Conference Workshop of the Renewable Energy from Waste Conference. (November 2016)
"Permission to Perform," (co-authored with Ljupka Arsova) published in the Renewable Energy from Waste magazine. (June 2016)
"Bio-digester Case Study and Organics Reuse," presented at the Reuse Summit. (June 2016)
"How are Local Governments Navigating the Challenges and Opportunities in Today's WTE Market?," (moderator) presented at the North American Waste-to-Energy Conference. (May 2016)
"Renewable Energy from Waste in the U.S.: Status and Trends for the Future," presented at the Lorman Educational Services Webinar with Ljupka Arsova (February 2016)
"Biomass Conversion Technologies," presented at the Princeton University Energy Policy Seminar. (April 2014)
"The Latest Updates on Waste-to-Energy and Conversion Technologies; Plus Projects Under Development," presented at the Waste-to-Energy Development and Finance Summit. (January 2013)
"Waste Management and Landfill Industry Perspectives," (moderator) presented at the Waste-to-Energy Development and Finance Summit. (January 2013)