Jennifer Porter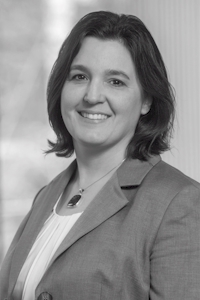 Chief Operating Officer
Education:
MURP, Urban and Regional Planning, Portland State University, Portland, OR
BA, Psychology with Honors, Wells College, Aurora, NY, Phi Beta Kappa
Certifications:
SWANA / CRRA Certified Practitioner in Zero Waste Principles and Practices
The Principals Academy Virtual Seminar, The Zweig Group
OSHA 30 Hour Construction Program (CS-OSHA30-NFb)
Areas of Expertise:
Solid waste management planning; recycling; composting; circular economy and sustainability initiatives; collection; procurement.
"I am passionate about working with communities NOW to advance a sustainable future that embraces waste prevention, reuse and recycling. We have an urgent need to implement regenerative, circular solutions for ourselves and future generations."
Ms. Porter is an Environmental, Social, and Governance (ESG) planning and sustainable development leader with 20 years of experience on government and private sector sustainability initiatives. She has extensive experience and expertise in solid waste management, recycling, and composting program development and evaluation.
As Conservation Program Coordinator for over six years with the City of Portland's (Oregon) Office of Sustainable Development (now Bureau of Planning and Sustainability), she managed citywide recycling changes for 145,000 households; led multifamily recycling projects resulting in a 21% rise in volume and a 90% decrease in contamination; headed the renewal of the 10-year franchise for the city's 23 residential waste haulers; coordinated the annual residential rate setting for the $43 million annual enterprise fund; spearheaded the Columbia-Willamette Clean Cities Coalition strategic development plan; established strong working relationships with waste haulers, property managers, community development corporations, government entities, and environmental groups; and developed a statistical model for a commercial food composting program.
Ms. Porter's diverse experience includes acting as Chief Operating Officer at Rivertown Composting, a firm focused on changing the way New York City and New York State handles its organic waste.  She was also Manager of Corporate Sustainability for Healthy Buildings, securing new clients and projects in the green building/energy efficiency realm. At the Northeast Innovation Alliance – Workforce Wayne, she was Director of Workforce Initiatives where she spearheaded implementation of a federal grant for workforce development, resulting in the creation of the Wayne Pike Workforce Alliance. She has also volunteered and held Board positions with many organizations, including the Association of Oregon Recyclers, the Columbia-Willamette Clean Cities Coalition, the Hollywood Farmers Market, and the Sunnyside Gardens Community Association, and the Town of Tusten Energy Committee.
Interviews
"A Conversation with Jennifer Porter," 30-minute audio interview published in Recycling Today (December 2019)

"GBB's New Vice President Remains Focused on Sustainability," published in Waste360 (August 2019)
"Proceed with Caution: What to consider when implementing a commercial franchising system,," published in Waste Today (March 2018)
Publications & Speeches
"Case Study: Kent County's Sustainable Business Park," presented at the International Society for Industrial Ecology Webinar (March 2023)
"5 Ingredients for Your Community's Zero-Waste Future," published in Waste Today (January 2023)
"Increasing Authentic Public Participation in New York State Solid Waste Management Planning: Industry Best Practices & Kent County, MI Sustainable Business Park Development Case Study," presented at the New York Federation of Solid Waste & Recycling Conference (May 2022)
"Emerging Research & Technology: Town of Tusten, NY ‐ Operational HORSE," presented at the 2022 New York State Organics Summit (April 2022)
"Food Waste Diversion Initiatives and Mandates – Case Studies of Tusten, NY HORSE," presented at the TEACH AD Webinar Series: Small scale anaerobic Digestion Plants (February 2022)
"Food Waste Diversion Initiatives and Mandates," presented at the New Jersey Composting Council Organics Waste Management Summit (October 2021)
"Waste Not ‐ The Circular Economy: Reuse, Recycle, Reduce and Recover," presented at the New York State Association of Conservation Commissions Conference on the Environment (October 2021)
"Confused About How to Deliver Your Sustainability Targets? We Can Help!", presented at the GreenCircle Certified Webinar. (July 2021)
10-minute presentation:
"Nothing for Us Without Us: Furthering Equity and Justice in the Solid Waste Sector," published in Waste Today (March 2021)
"Imagine This!" (Circular Economy in Solid Waste Programs), presented at the Sustainable Business Series – Wells College, NY. (October 2020)
"Solid Waste in the Age of Resilience," published in Waste Today. (May/June 2020)
"Imagine This!" (Circular Economy and Sustainable Solutions in Solid Waste), presented at the Municipal Waste Management Association Fall Summit, Cleveland, OH. (October 2019)
"Advancing a More Circular Economy and the Reinvention of the Waste-to-Energy Industry through Sustainable Business Park Development," presented at the Waste Conversion Technology Conference & Trade Show, Atlantic City, NJ. (June 2019)
"Creating an Industrial Ecosystem – Building a circular economy starting with what was supposed to be a landfill expansion," published in MSW Management magazine. (January-February 2019)
"Often Overlooked – What municipalities should know while writing and implementing residential solid waste hauling contracts," published in Waste Today. (September 2018)
"Do's and Don'ts for Bidding on Collection Contracts for Small Haulers," presented at the Federation of New York Solid Waste Associations Conference, Lake George, NY. (May 2018)
"Making Space for Sustainability – a Kent County Case Study," presented at the Michigan Recycling Coalition Conference, Kalamazoo, MI. (May 2018)
"Circular Solutions to a Growing Recyclables Market Problem," published in Waste Today. (April 2018)
"Moving from Bins to Carts and Increasing Diversion: The Portland Recycles Plan," presented at the National Recycling Coalition Conference, Pittsburgh, PA. (September 2008)
"Calculating Food Residuals Generation Quantities," published in BioCycle magazine. (August 2003)
"Multilingual School Children," published in Salt Magazine, 50th Anniversary issue. (December 1997)