Solid Waste Collection, Disposal and Recycling Options/Assets Strategic Plan (City/Parish of Baton Rouge, Louisiana)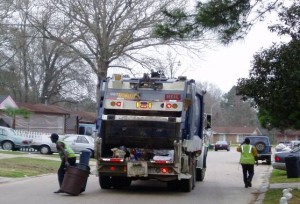 The City of Baton Rouge, Parish of East Baton Rouge (City/Parish) (population of approximately 415,000) provides a broad array of solid waste management services to approximately 120,113 residences. The City/Parish spans 472 square miles. These services are governed by the Metro Council and managed through the City/Parish Department of Public Works.
The Metro Council decided that solid waste management services for collecting residential garbage and recyclables, and processing of recyclables would be bid out. GBB conducted a thorough assessment of solid waste collection, disposal and recycling options/assets in order to prepare for this process. The Strategic Plan developed and presented to the City/Parish provided critical information needed for decision-making and guided the City/Parish toward a balanced waste and recyclables management system.
GBB's overall objective was to identify alternative administrative, operation and business arrangements that could maintain or reduce the annual level of City/Parish expenditures on managing solid waste, while allowing for upgrades in service to increase efficiency and maximize diversion.
GBB assisted the City management in reviewing the program options available and making recommendations. A selection of specific options was made by the Director of Public Works and endorsed by elected officials and the public. GBB also assisted the City/Parish in the implementation of the selected service changes and strategy through production of bid specification(s) and managing the complex bid process to the point of contract signing by the winning contractor(s). The results of the process were increased service levels and overall cost savings for solid waste management.