District Energy System Public Information Program (Metro Nashville, Tennessee)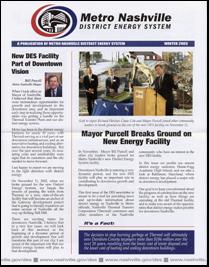 GBB served as Metro's Project Administrator, from beginning through February 2007, for the redevelopment of the Metropolitan Government of Nashville and Davidson County (Metro) district energy system (DES).  As part of this role, GBB designed and oversaw the implementation of a public information campaign to communicate information about the development of the new DES and to convey a positive public image for the new facility.  GBB's efforts included creating a logo for the facility, creating DES web content that could be incorporated into Metro's official website, publishing a general informational brochure about the new DES, and publishing periodic newsletters distributed in both hard copy and electronic format to interested parties. Throughout this process, GBB has worked closely with graphic design and public relations sub-consultants in identifying and creating pieces necessary to establishing a positive image for the new DES.  GBB managed the DES web site to keep it updated and to serve as a general informational reference for current and potential customers and citizens of Nashville.
I'm pleased to report that the Kent County Board of Public Works has approved the advancement of the Sustainable Business Park Master Plan that GBB developed. [...] GBB's comprehensive approach to the development of this Master Plan will allow us to move seamlessly into the implementation phase. Your agency's collective industry experience and willingness to bring local engineering consultants alongside the process has proven to be invaluable as we explore the variety of technologies in use across the world to help us reach our goals of reducing waste going to landfill by 90% by 2030.
Darwin J. Baas
Kent County, Michigan
Connect with us
2010 Corporate Ridge
Suite 510
McLean, VA 22102

703-573-5800
hello@gbbinc.com
Newsletter
GBB Waste Outlook
Sign up to have our newsletter, providing the latest news about GBB and the industry, sent to your inbox. Your email address will not be sold/provided to third-parties and will only be used by GBB to send the newsletter and occasionally reach out regarding our solid waste consulting services.
Current and past issues are also available to view/download.