Commercial Recycling Public Education (City of Plano, Texas)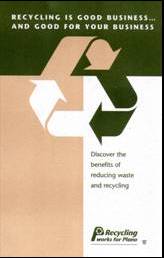 As a follow-up to the Commercial and Residential Waste and Recyclables Collection Review, GBB provided technical, marketing, and public relations services to enable the City to develop and promote a successful commercial recycling program for commercial and institutional generators, with a goal of increasing the City's commercial recycling diversion from 11 percent to 40 percent by 2004.  GBB developed a campaign logo and slogan; "toolkits" containing case studies, fact sheets, program tips, etc. specifically targeted to six sectors (multi-family properties, office buildings, food service operations, retail operations, health care institutions, and hotels/motels);  direct mail notification pieces; stickers and decals for recycling containers; staff training on providing technical assistance to businesses and institutions; publicity for the commercial recycling program (TV public service announcement, print advertising, cinema advertising); and promotional support and content assistance for the City to develop business recycling workshops.
I'm pleased to report that the Kent County Board of Public Works has approved the advancement of the Sustainable Business Park Master Plan that GBB developed. [...] GBB's comprehensive approach to the development of this Master Plan will allow us to move seamlessly into the implementation phase. Your agency's collective industry experience and willingness to bring local engineering consultants alongside the process has proven to be invaluable as we explore the variety of technologies in use across the world to help us reach our goals of reducing waste going to landfill by 90% by 2030.
Darwin J. Baas
Kent County, Michigan
Connect with us
2010 Corporate Ridge
Suite 510
McLean, VA 22102

(703) 573-5800
hello@gbbinc.com
Newsletter
GBB Waste Outlook
Sign up to have our newsletter, providing the latest news about GBB and the industry, sent to your inbox. Your email address will not be sold/provided to third-parties and will only be used by GBB to send the newsletter and occasionally reach out regarding our solid waste consulting services.
Current and past issues are also available to view/download.