California Beaches – 2005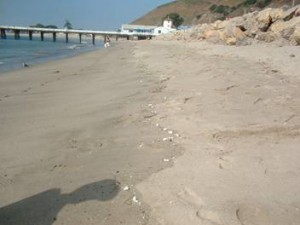 GBB conducted litter surveys using the Institute for Applied Research methodology at 75 beach sites along the California coast.  These surveys were conducted for a confidential client.  The standard IAR methodology was modified to include individual litter items with an area between one-half and one square inch.  (Note: The standard IAR methodology surveys litter with an area greater than one inch.)  This includes items such as cigarette butts.  These small items were found to contribute a significant portion to litter.  Other findings indicate that storm drain outfalls and off-shore sources, such as ships, also contribute significantly to beach litter.  Wood and other organic material were found in significant quantities as well.  Organics are of particular interest because of bioactivity in the ocean environment.
I'm pleased to report that the Kent County Board of Public Works has approved the advancement of the Sustainable Business Park Master Plan that GBB developed. [...] GBB's comprehensive approach to the development of this Master Plan will allow us to move seamlessly into the implementation phase. Your agency's collective industry experience and willingness to bring local engineering consultants alongside the process has proven to be invaluable as we explore the variety of technologies in use across the world to help us reach our goals of reducing waste going to landfill by 90% by 2030.
Darwin J. Baas
Kent County, Michigan
Connect with us
2010 Corporate Ridge
Suite 510
McLean, VA 22102

(703) 573-5800
hello@gbbinc.com
Newsletter
GBB Waste Outlook
Sign up to have our newsletter, providing the latest news about GBB and the industry, sent to your inbox. Your email address will not be sold/provided to third parties and will only be used by GBB to send the newsletter and occasionally reach out regarding our solid waste consulting services.
Current and past issues are also available to view/download.