Collection Route Optimization (Emerald Coast Utilities Authority, Florida)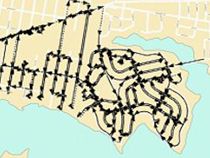 With GBB as the prime contractor and C2Logix as subcontractor, the project team has assisted the Emerald Coast Utilities Authority (ECUA), based in Pensacola, Florida, with the implementation of the FleetRoute™ route optimization software under a sub-contract with GBB. ECUA, with its fleet of 80 trucks, provides solid waste and yard trash collection to 65,000 residential properties and commercial businesses within the unincorporated areas of Escambia County. Near the end of 2008, ECUA won the contract for the north Escambia County area adding an additional 13,000 customers. At this time, ECUA also changed to once per week collection and added weekly recycling collection. The Project Team was able to incorporate the new customers, setup weekly recycling and make the change to once per week collection in just over one month's time. Due to the recycling being new to ECUA, the Project Team updated the recycling routes on a weekly basis as new customers signed up for service. In one month, ECUA added approximately 20,000 recycle customers at a rate of about 4,000 per week, which the Projet Team added weekly and updated the routes.
ECUA embarked on the implementation to balance their routes, reduce overtime, and increase collection efficiency and, being in a high-growth area, make integration of new clients to existing routes easier.
The project Team prepared the Authority's data for use with FleetRoute™, and staff has been trained to use the software and create/update routes in-house. ECUA is utilizing FleetRoute™ for both their residential and commercial routes. FleetRoute™ makes route creation easier and more efficient than manual routing, especially given ECUA's high-growth environment.