Gasification of Non-Recycled Plastics (American Chemistry Council)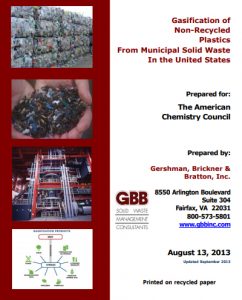 GBB was selected by the American Chemistry Council (ACC) to compile an inventory of the major existing gasification technologies and analyze the possibilities and barriers for utilization of "postconsumer" plastics as feedstock for gasification plants. As part of the assignment, GBB described possible circumstances that allow gasification to fit within different waste management scenarios in the U.S. and identified public policy drivers or components that have the potential to propel gasification adoption forward. Communities in the U.S. that have included and/or are in the process of integrating the use of gasification technologies into their waste management systems were highlighted and the attributes of a model community for the adoption of gasification were identified.
In September 2013, ACC announced the publication of the in-depth report, prepared by GBB, that evaluates how gasification, an emerging set of technologies that could potentially convert large-scale municipal solid waste into energy, could fit into waste management planning in North America. The report, entitled "Gasification of Non-Recycled Plastics from Municipal Solid Waste in the United States," is available on the ACC website.
It was prepared with municipalities, investors and waste managers in mind with a focus on identifying challenges and opportunities for stakeholders. The report highlights that there are currently 21 demonstration facilities being operated in the United States and another 17 commercial-scale facilities under development. It also offers an overview of gasification technologies, feedstock flexibility, outputs and economics, licensing companies, experience with gasification technologies, opportunities and barriers to commercialization, and the potential role of gasification in integrated waste management systems.
I'm pleased to report that the Kent County Board of Public Works has approved the advancement of the Sustainable Business Park Master Plan that GBB developed. [...] GBB's comprehensive approach to the development of this Master Plan will allow us to move seamlessly into the implementation phase. Your agency's collective industry experience and willingness to bring local engineering consultants alongside the process has proven to be invaluable as we explore the variety of technologies in use across the world to help us reach our goals of reducing waste going to landfill by 90% by 2030.
Darwin J. Baas
Kent County, Michigan
Connect with us
2010 Corporate Ridge
Suite 510
McLean, VA 22102

(703) 573-5800
hello@gbbinc.com
Newsletter
GBB Waste Outlook
Sign up to have our newsletter, providing the latest news about GBB and the industry, sent to your inbox. Your email address will not be sold/provided to third-parties and will only be used by GBB to send the newsletter and occasionally reach out regarding our solid waste consulting services.
Current and past issues are also available to view/download.