Software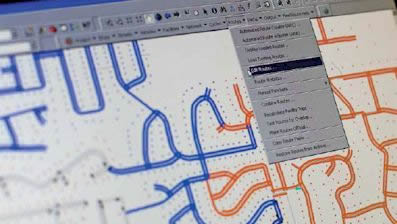 The FleetRoute collection routing software technology is available as a software for in-house route management or as a service where routing is outsourced to GBB's service bureau. The software option includes the base product license, a maintenant contract and 5 days on-site training. The Automated Route Updater (ARU), which links with customer service or the billing system to add/remove customers to keep routes synchronized with other systems, is optional.
FleetRoute is offered and supported by GBB, a full-service solid waste management consulting firm that offers a variety of services which can assist clients in the implementation of their new routes. These consulting services include: crew configurations, staffing and personnel requirements, training, route auditing, facility evaluation and management, community information campaigns, customer service system integration, etc. The availability of these skills insure clients that the newly routed collection system is as efficient as possible.
FleetRoute is a cutting-edge route optimization software provided by a team of experienced solid waste management consultants that understand your needs and challenges and can help solve them!
FleetRoute™ Route Optimization Software allows you to…
Maximize the productivity of each vehicle, even if they have different operating characteristics and requirements.
Specify the maximum and minimum number of hours, stops, capacity, dump trips and distance desired for each vehicle.
Balance your service days and districts.
Specify the general area of vehicle before route creation.
Customize computer generated route configurations to meet your needs, or optimize your existing routes
Find the closest transfer stations/landfills for each vehicle for each dump trip and allocate vehicles to the optimal depot.
Find the closest dump points in the route within the limits of the total load.
Find optimal locations for new facilities.
Control the types of turns made such as minimizing U-turns, specifying cul-de-sac turn rules, etc.
FleetRoute™ gives you…
Color driver and management maps and street-by-street, minute-by-minute driving direction reports.
Statistical and profitability reports so you know how each route contribute to the bottom line.
Customer change of service day lists and reports for change notification letters.
Ad hoc mapping and analysis functions.
An open data standard for easy integration with your customer information and accounting systems.
A pathway for integrating route information with your corporate intranet.
Hardware Requirements
Minimum

Recommended

Processor

1 Ghz Pentium IV or equivalent

3 Ghz+ Pentium IV/XEON or equivalent

RAM

256 MB

512+ MB (1+ Ghz for large geographic areas)

Disk Space

1 GB

3+ GB

Storage

Removable storage device for backups

Printer

Color laser or color inkjet
Software Requirements
Windows 98, NT, or XP based operating system
ESRI ArcGIS version 9.x
Testimonials
"We chose FleetRoute's service bureau to develop our routes using GIS route optimization software because this approach provided a more economic, sophisticated, and faster solution than we could develop in-house. The service bureau gave us valuable access to the FleetRoute Team's extensive experience in waste collection and advanced route design. Using the service bureau allowed us to not worry about the methodology, but rather focus on the most beneficial routing for the City of Edmond."

Mike Freeman
System Analyst
City of Edmond, OK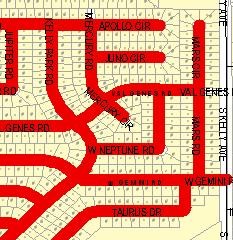 Read more testimonials from satisfied FleetRoute users and GBB Service Bureau clients.
Maps and Travel Direction Reports
See sample maps and travel directions generated by FleetRoute.