GBB Now Offers Expanded Services in Public Outreach and Engagement
For more Information, contact:
Harvey Gershman, President
Gershman, Brickner & Bratton, Inc.
703-573-5800 / hgershman@gbbinc.com / www.gbbinc.com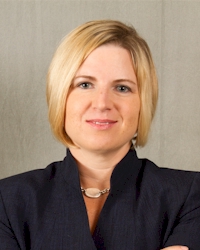 FAIRFAX, Va (Oct. 1, 2014) – Gershman, Brickner & Bratton, Inc. (GBB) is excited to announce the addition of Samantha Villegas, APR, to its staff, as Vice President. Ms. Villegas brings with her more than 22 years of experience in strategic marketing and communications, with a focus on science and environmental issues. She has extensive experience in the development and execution of integrated and strategic communications programs in the fields of solid waste and recycling; water and wastewater; and energy efficiency.
"GBB has always viewed the public outreach part of our work as a critical element. With Samantha on board, we are thrilled to have her bring greater depth in our public outreach and engagement services, particularly for zero waste to landfill and sustainability projects," says GBB President and co-Founder Harvey Gershman. "Samantha will lead our public outreach offerings and GBB's own marketing efforts, and she will assist with day-to-day operations of our business."
Prior to joining GBB, Ms. Villegas owned and operated her own independent PR consulting firm, SaVi PR, LLC. Prior to that she served as Vice President, External Affairs for American Water, the country's largest private water and wastewater company, where she provided executive level public relations counsel and strategic direction to corporate communications and external affairs for nine state subsidiaries. Ms. Villegas also served for ten years as public relations and social marketing counsel and strategist for Loudoun Water, a water and wastewater utility in Northern Virginia. Before that, she was part of the team that supported the EPA's Green Lights program, a voluntary initiative to cut greenhouses gases through energy efficiency investments, and helped the EPA launch the voluntary Energy Star Small Business program, which expanded the Green Lights mission to capture savings in all aspects of small business energy use.
An accomplished and recognized leader in communications, Ms. Villegas was the 2013 president of the National Capital Chapter of PRSA, the nation's largest chapter of the Public Relations Society of America. As a volunteer leader, she oversaw this membership organization of 1,500. Ms. Villegas has her APR, which is accreditation in public relations, conferred by the Universal Accreditation Board, after a rigorous exam and interview process. She also has a Master of Science degree in environmental policy from Johns Hopkins University and a Bachelor of Science degree in environmental science from Penn State University.
"It's a real honor to join GBB and be a part of such a well-respected organization within the solid waste and recycling field. I am really looking forward to helping our clients and prospects realize their goals for sustainable solid waste management through meaningful engagement with their stakeholders," said Villegas.
Ms. Villegas will work at GBB's headquarters in Fairfax, Virginia. She can be reached at svillegas@gbbinc.com or 571-577-7477.
About GBB
GBB is a national solid waste management consulting firm founded in 1980 that works on solid waste collection, processing, recycling, and disposal issues and assists in planning, procuring, and implementing sound, cost-effective facilities and services at the local, state, and national levels for both the public and private sectors. For more information on the firm and its products and services, visit www.gbbinc.com, www.linkedin.com/company/gershman-brickner-&-bratton-inc., www.facebook.com/gbbinc, or call 703-573-5800.
###