Lori Scozzafava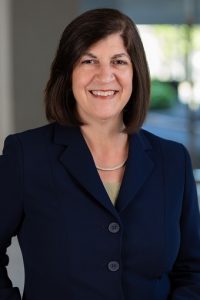 Senior Vice President
MBA, Business Management with a concentration in Marketing, University of Maryland – Robert H. Smith School of Business
BA, Environmental Science, Bucknell University
Specialties: 
Strategic planning, sustainability, waste reduction, recycling, composting, environmental education, and integrated waste management.
"I'm a passionate advocate for environmental issues – including sustainability, waste reduction, recycling, composting and integrated waste management – while being focused on the triple bottom line: people, planet and profits."
Ms. Scozzafava is an experienced senior level executive with nearly 30 years of solid waste management industry experience, including 15 years in high profile leadership roles with the Solid Waste Association of North America (SWANA), the US Composting Council (USCC), and the Composting Council Research & Education Foundation (CCREF), where she provided valuable strategic and operational leadership, improved bottom lines, revitalized operations and finance, and managed significant growth of total net assets. She has extensive project management, recycling, and composting expertise.
While in leadership positions for national associations, she grew and improved revenue, reserves and funding sources while reducing costs and improving operational integrity, performance, efficiency and resource allocation. She designed and executed successful data, market and member-influenced strategies to achieve annual and long-term growth, visibility and industry leadership. She influenced regional and national policy in multiple environmental areas with expertise, passion and integrity. She also worked with Boards to improve organizational success, providing guidance and fact-based decision options. She transformed multiple functional teams to new levels of performance, commitment and results. Ms. Scozzafava mentored, challenged and provided tools to elevate learning, skill development, and goal attainment.
During her career, she has received several industry recognitions, including being named one of the top Women in Environmental Management by Waste & Recycling News and one of seven "Up-and-Coming" professionals in the recycling and composting industries by Resource Recycling magazine.
Publications & Speeches
"Recovery Park: The Power of Collaboration – The Kent County, MI Project," presented at the Maryland Recycling Network / SWANA Mid-Atlantic Conference (June 2018)
"It's Time to Accept That Our China Market Problems Are Not Going Away," published in Waste Today. (May 2018)
"Disaster Preparedness in the Age of the Superstorm: Creating a Disaster Debris Management Plan," presented at the Municipal Waste Management Association Summit, Louisville, KY. (October 2017)
"Defend Against China's National Sword: Rebuild. Renew. Recontract." published in Waste Today. (September 2017)
"What's Ahead for Solid Waste Management?" presented at the Lorman Educational Services Webinar (July 2017)
"To Mix or Not to Mix?," presented at WasteExpo, New Orleans, LA. (May 2017)
"Anaerobic Digestion: Not a Black Box Technology Option," presented at the Maryland Recycling Network Webinar (April 2017)
"Training: Waste Conversion Technologies 101," presented at the SWANA Northern New England Chapter Seminar, Portland, ME. (February 2017)
"Anaerobic Digestion (AD) to Manage Food Waste – Worth Considering?" presented at the Municipal Waste Management Association Summit, St. Petersburg, FL. (November 2016)
"Maximizing the Value of Digestate as an End Product," presented at the Renewable Energy from Waste Summer School Webinar Series (August 2016)
"RFP Writing for MSW Professionals – Minimizing Risk, Maximizing Rewards," presented at the Municipal Waste Management Association Webinar (April 2016)
"What's Ahead for Solid Waste Management?" presented at the Lorman Educational Services Webinar (April 2016)
"Does Your Solid Waste Management Plan Need a Makeover?" presented at Curbside Recycling Expo, Chicago, IL (September 2015)
"Organics Update I: What's Happening in Organics Management?" presented at the Maryland Recycling Network & SWANA Mid-Atlantic 2015 Annual Conference, Linthicum, MD (June 2015)
"Organics Update II," presented at the Maryland Recycling Network & SWANA Mid-Atlantic 2015 Annual Conference, Linthicum, MD (June 2015)
"Organics Recycling in Maryland," published in BioCycle Magazine (June 2015)
"Bigger is Better… when we're talking about organics management," published in MSW Magazine (December 2014)
"Keynote Presentation: Organics Recovery in the US," presented at Sustainable Oregon (June 2014)
"Keynote Presentation: Organics Management-Trends & Opportunities," presented at the NY Federation of Solid Waste's Waste & Recycling Conference (May 2014)
"Official State of the Organization," presented at the US Composting Council Conference. (January 2014)
"Happy 2014," published in BioCycle Magazine (January 2014)
"Confessions of a Compost Enthusiast," published in BioCycle Magazine (December 2013)