GBB Internship Program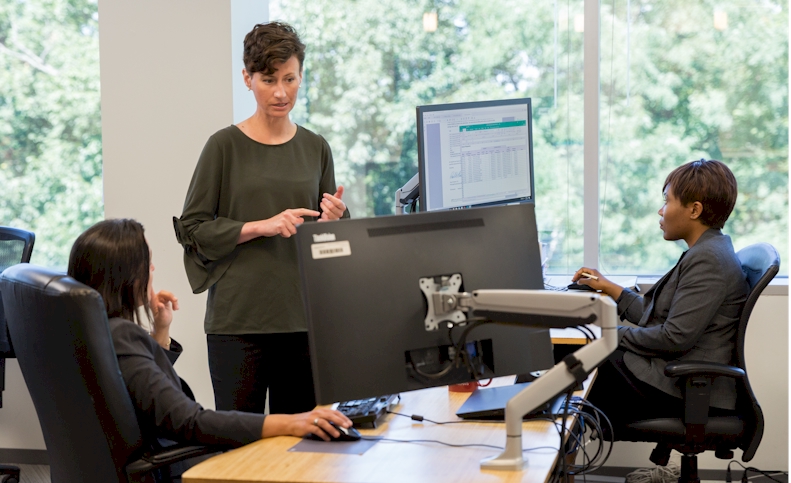 Gershman, Brickner & Bratton, Inc. (GBB) is a consulting firm that loves helping people see garbage as a resource and an opportunity. Celebrating 40 years of service in 2020, we do this through planning and implementing integrated waste management programs designed to provide cost-effective services, protect the environment, and sustain our natural resources. We're passionate about the environment and are fortunate to work with great employees, associates, clients, colleagues, and friends who share our passion.
Our Vision:
A world where discarded materials are used as resources rather than wasted.

Our Mission:
We help our clients solve solid waste management issues by providing innovative, responsible, sustainable, and economical strategies and solutions for the benefit of communities and the environment.
Summer / Fall Internship – Engineering / Solid Waste Management
Instituted in 1982, GBB's Internship Program allows students and participants in special career advancement programs to acquire hands-on experience in the solid waste management industry, further their knowledge in the environmental field, and work with GBB consultants.
GBB seeks an intern pursuing a degree in engineering and/or environmental sciences with studies or interest applicable in waste management and conversion technologies used in the solid waste, construction, manufacturing, industrial, agricultural, and recycling industries. Education in technical fields is in demand in the solid waste management sector, mixed waste processing, and the developing industry of renewable energy such as waste-to-energy, biofuels, gasification, anaerobic digestion, and pyrolysis. Knowledge and interest in sustainability and industrial ecology is a plus.
Position Type: Full Time (40 hours)
Hourly Rate: $13.00 or Course Credit (no relocation or cost of living allowance provided)
Work Location: GBB main offices – McLean, Virginia
Essential Functions and Key Responsibilities:
Perform project tasks as assigned by project manager
Perform online research and analyses to contribute conceptual design development for further evaluation
Assist with life- cycle analyses of solid waste management systems
Review system concepts and preliminary design tailored to suit clients' needs
Contribute to development of cost estimates associated with solid waste systems
Perform report writing as part of client deliverables and for presentation
Work with project manager and with clients after initial deliverables to address issues and to provide ongoing support
Education, Training, Professional Certification and Work Experience:
Pursuing Undergraduate or advanced degree in relevant engineering fields from four-year accredited college or university by a regional accreditation association.
Engineering fields/degrees such as Civil/Environmental, Chemical, Mechanical, Industrial Ecology, and Environmental Sciences curricula.
Knowledge and Skills Requirements:
Basic Skills, college level, with Excel spreadsheets, Word, and PowerPoint (preferred).
Strong communication skills: Must be fluent in English (written and oral), have excellent interpersonal skills; ability to communicate effectively with all levels of the organization (e.g. marketing, engineering, production).
Strong ability to collaborate and work in a team environment. Technical verbal communication and writing skills a requirement.
Quantitative and qualitative data analysis and evaluation skills
Problem solving skills
In return for your contributions, we offer an environment that supports and recognizes performance and your professional growth.
Contact Information:
Please e-mail your résumé and cover letter to GBBcareers@gbbinc.com
No phone calls please.
Equal Opportunity Employer:
Gershman, Brickner & Bratton Inc. is an affirmative action and equal opportunity employer. All qualified applicants will receive consideration for employment without regard to race, color, religion, sex, sexual orientation, gender identity, gender expression, national origin, age, protected veteran or disabled status, or genetic information.